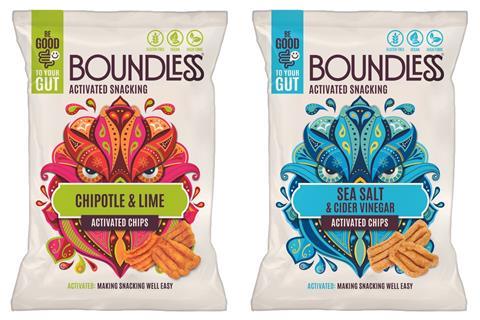 Snacking brand Boundless has added a duo of "activated chips" to its portfolio.
Made using sprouted sorghum, two flavours – Chipotle & Lime and Sea Salt & Cider Vinegar – will roll out on 24 August (rsp: £1.80/80g).
They will be available to buy from Amazon and the brand's own website.
Soaking the sorghum enabled "better digestion of the nutrients", said Boundless.
It was also "one of the most sustainable grains in the world" due to how little water it required to grow, it claimed.
The chips were "full of iron and potassium" and good for the gut, feeding the healthy bacteria in the microbiome, it added. They are also vegan and gluten-free.
Boundless founder Cathy Moseley called the launch a "game-changer".
She added: "We're helping people to look after their gut with a product range that is both accessible and affordable.
"Sprouting the grains reduces the levels of phytic acid, which in turn increases the bioavailability of nutrients inside the grain."
It comes after the activated snacking brand netted £1m funding to boost its expansion into Europe and the Middle East last July.
The funding came from angel investors and high net-worth individuals, and would be spent primarily on overseas marketing, working with distributors across these regions on in-store sampling, virtual trade shows and social media campaigns, it said.