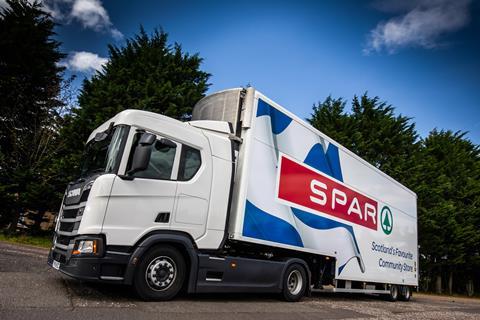 CJ Lang is investing in a new driver apprenticeship scheme.
It has also begun recruiting new drivers and warehouse operatives to "meet the needs of its growing estate".
The Scottish Spar wholesaler said the apprenticeship scheme upskilled drivers from HGV Class 2 to HGV Class 1.
A Class 1 licence allows drivers to operate a category C+E vehicle. These are the biggest vehicles legally allowed on the motorway, such as units and trailers.
A Class 2 licence allows drivers to operate a category C, which is known in the industry as a "rigid vehicle", according to the wholesaler.
The programme also facilitates progression from colleagues working in the warehouse to work in transport.
All participants on the scheme will also have the opportunity to gain a nationally recognised vocational qualification.
"As part of our development programme, we believe that our colleagues who can demonstrate the right behaviours we can train the skills to be our HGV drivers of tomorrow," the wholesaler said.
"Over the last 12 months, we have seen record volumes go through our depot in Dundee," said CJ Lang distribution director Colin Chapman.
"At times, it has been a challenge to keep stock flowing but we are very excited to have everything in place to support our independent Spar retailers and stores during the Euro 2020 championships.
"There are a significant number of in-store activities and promotions planned for the next four weeks and with the addition of new stores, the current good spell of weather and football fans looking to watch the matches from home, we will be working around the clock to ensure availability and delivery to Spar stores."
Last week, the wholesaler saw depot volume "significantly up" on forecast level, with similar levels to be reached this week.
It said ambient volumes were up 20% and frozen volumes were up 90%, compared with the same week two years ago.
"The team are working very hard and showing great commitment to keep deliveries moving and getting stock into stores," Chapman added. "The Spar tartan army is ready to roll out its support for Scotland's football team."