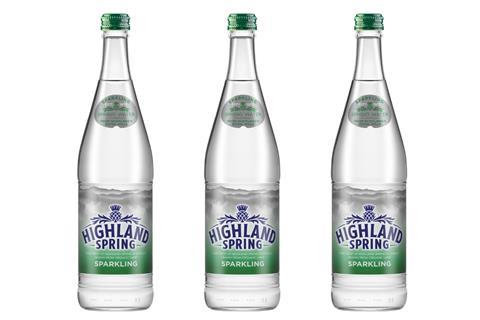 Highland Spring is recalling its 750ml glass sparkling water bottles following reports of the product exploding.
The manufacturing error – which has forced the brand to recall up to 130,000 bottles – has left one consumer with a "minor cut", a spokesman told The Grocer.
Highland Spring has urged shoppers not to consume the product or return bottles to store, but to avoid unnecessary handling, safely dispose of bottles and contact the business to request a refund instead.
This was a "precautionary" measure as there was a risk the glass bottles may explode and cause injury, said the Food Standards Agency.
Highland Spring CCO Simon Oldham told The Grocer: "Three consumers have contacted us reporting that a Highland Spring sparkling 750ml glass bottle product has exploded, with one consumer suffering a minor cut."
The brand was working closely with the local EHO and its supplier to investigate and carry out further testing, he added.
"These products have been in the market since May and this issue has arisen in the last few days, so we would expect the majority to have been consumed with the bottles now recycled."
Approximately 20,000-30,000 bottles could still be in circulation, said Oldham.
"We believe the three consumer complaints have arisen from circa 100,000 bottles which have already been consumed," he added.
Products with the batch codes 1138, 1139, 1172, 1173, 1201 and 1202 and a best-before date of May-July 2023 have been recalled.