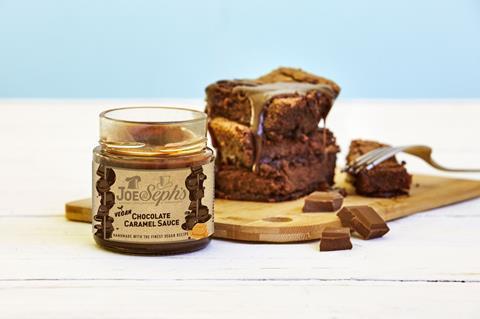 Joe & Seph's has unveiled a vegan version of its caramel sauce and rolled out a range of fully recyclable pouches.
Billed as "devilishly decadent", the Vegan Chocolate Caramel Sauce is blended with dark Belgian chocolate and a pinch of British sea salt.
It was the handiwork of the company's founder, Joe Sopher, who had spent over a decade perfecting the recipe, said the brand.
Joe & Seph's said it was "equally delicious" to its existing caramel sauces and would meet the soaring demand for vegan alternatives. It has rolled into Ocado (rsp: £4.99/230g).
It has also rolled out new 100% recyclable PE pouches across its 10 bestselling Gourmet Popcorn flavours, which include Salted Caramel, Bakewell Tart and Camembert Cheese.
The pouches "maintain great taste" and could be recycled with carrier bags at larger supermarkets, said Joe & Seph's.
Both moves come as part of the brand's ongoing mission to "enhance sustainability", it said.
It currently donates all near-end-of-life products to The Felix Project, which delivers surplus food to charities and schools in London. Leftover popcorn from its production site, meanwhile, is sent to a chicken farm.
"For years, we've been driving our business to a more sustainable model and are delighted to be making progress in achieving this," said Joe & Seph's co-founder Adam Sopher.
The brand had responded to feedback from "increasingly more environmentally-conscious" shoppers to update its packaging, said Sopher.
The new recyclable pouches were "the first viable option that prevents the compromise of a shorter shelf life and the associated increased food waste", he claimed.