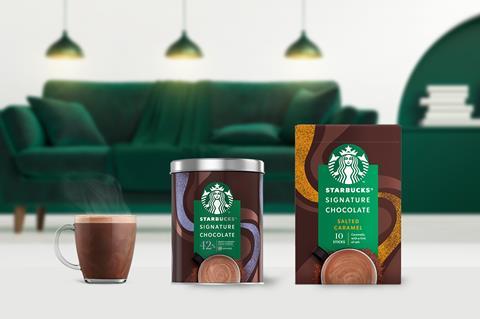 Nestlé is expanding its Starbucks at Home range with a duo of hot chocolates.
Two varieties of its Signature Chocolate will roll into Sainsbury's from 12 September and Asda from 18 September.
Its 42% Signature Chocolate delivered "a velvety and smooth chocolate taste", said Nestlé. It will roll out in a 330g tin (rsp: £4.25).
Its Salted Caramel flavour, meanwhile, will launch in sachet format (rsp: £4.25/10x22g).
Both could be mixed with warm milk or dairy alternatives, said Nestlé.
Launching in time for autumn, they would allow consumers to "cosy up with a delicious, rich and velvety mug of Starbucks Signature Chocolate at home", it added.
Nestlé UK brand manager Kelly Fleetwood said she was confident the products would be a "big hit, not only amongst Starbucks lovers".
The "delicious, indulgent-tasting" hot chocolates were made with high-quality cocoa certified by Rainforest Alliance, Fleetwood added.
They will join the existing range of coffees Nestlé and Starbucks have brought out under the Global Coffee Alliance.
In August 2019, for instance, it launched a range of Starbucks-branded Nespresso pods.