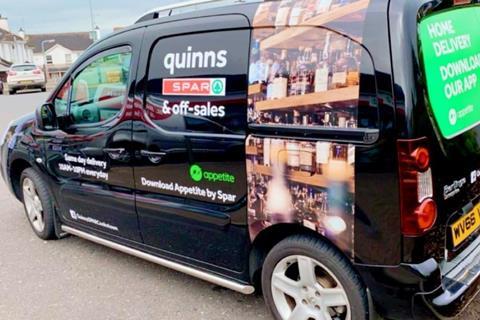 Northern Irish Spar retailer Quinn's Group has surpassed 6,000 online grocery orders since setting up a new home delivery service last April.
The retailer, which owns two stores in Cookstown, has partnered with grocery shopping app Appetite for the service.
Co-owner Martina Kilpatrick said average basket spend for orders via the app at its Westland Road Spar store was £54, but some customers had taken orders of up to £250.
She has also reported the app attracting shoppers to their stores for the first time, with approximately 90% of Appetite users being new customers.
"It was established as a community service during the lockdown for the vulnerable and self-isolating and for those who wanted the local service they were used to from visiting the Quinn's Group of stores," said Kilpatrick.
"From the start our home deliveries quickly grew, peaking at £21,101 for the month of May. Our delivery service is available from 10am to 10pm Monday-Sunday and we do find that the majority of our orders are placed for same-day delivery."
Appetite is integrated into a retailer's EDGEPoS system, which is supplied by Henderson Technology, meaning stock levels are automatically updated so the shopper can chose from what is on the shelves in real time.
"Eighty-five per cent of orders received are home delivery versus 15% click & collect, with Friday and Saturday being the busiest in app order days," added Kilpatrick.
"We are providing a unique local and community service to our loyal shoppers and that's why they keep shopping with us."