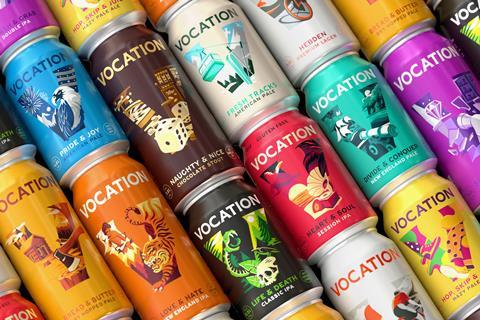 Vocation Brewery has rebranded its entire range of craft beers.
The new designs brought "more personality to the packaging" and better reflected the "distinct character of each beer inside", it said.
They featured the brand name more prominently, allowing consumers to easily identify it and enabling "better trial across its ever-expanding, innovative portfolio", it added.
A 'Vocation V' icon has also been introduced on-pack to support brand recognition.
To coincide with the rebrand, the brewer is also launching a new chocolate and banana-flavoured stout into Tesco.
Called Imperial Banana, the 11.4% abv drink will roll into 523 stores from 13 September (rsp: £5/440ml). It has also launched into the on-trade in keg format.
The redesign reflected "the maturity and growing confidence of the brand", said Vocation Brewery founder and CEO John Hickling.
"As a brewery we have quietly gone about our business since 2015 in a beer-focused way, not making big noise or banging the drum", said Hickling.
Now was the time to "shout a little louder and make sure everyone knows about Vocation", he added.
New point-of-sale material including branded beer runners, parasols and glassware is available to all on-trade customers.
It worked with ongoing design partner, Robot Food, on the new branding.