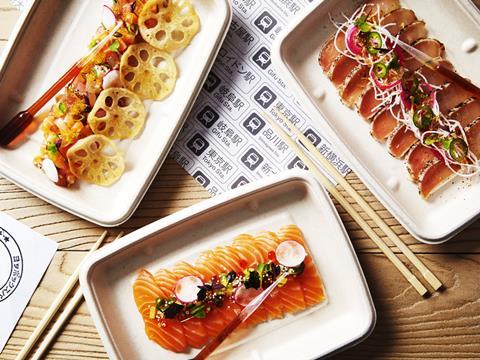 Yo Sushi's supermarket push has been hit by the pandemic in a further blow for the retailer, whose restaurant arm has undergone a CVA .
Supplier brand Taiko, acquired by Exponent-backed Yo in 2018, which supplies sushi to Waitrose, Tesco and other retailers, saw a "severe reduction" of sales as a result of lockdown, new accounts show.
It comes after the core casual dining business closed 19 outlets and cut up to 250 jobs via a CVA in September, which is currently being challenged in court by one of its landlords.
Newly filed accounts said limited footfall to its highest-performing supermarket sites since the start of the outbreak had hit sales, as well as the delayed launch of a number of new contracts.
The subsequent easing of lockdown restrictions and increased confidence from its retail customers to progress with launches helped underpin a recovery later in the year, but the further restrictions since November could lead to "further material impact on future trading" the accounts warn.
Before coronavirus hit, Yo Sushi had returned to profit and posted an increase in sales in the year to 1 December 2019.
Total group sales were up 3.2% to £91.7m, driven by like-for-like sales growth of 4.7% across its restaurant portfolio. Group operating profit rebounded to £0.2m from a loss of £9.1m in the previous year, though adjusted EBITDA edged down from £5.9m to £5.8m due to increased costs and staff salaries.
Yo opened 33 kiosks in UK supermarkets during the period, taking its total up to 35.
Parent group to Exponent's sushi empire, Snowfox Midco, saw sales rise 17% to £191m.
Taiko sales were £17.8m compared with £11.4m in the 34 weeks to 25 November 2018, representing pro-forma growth of 2.4%. However, its loss on ordinary activity before tax rose from £649k to £2.2m amid raw material cost price pressures.
Improvements made in reducing raw material and labour costs means the arm has "traded consistently profitably" during the latter half of 2020.
Since year end it opened a fourth sushi kiosk under the Mai Taiko brand and is looking for further opportunities to expand the division in supermarkets and retail.