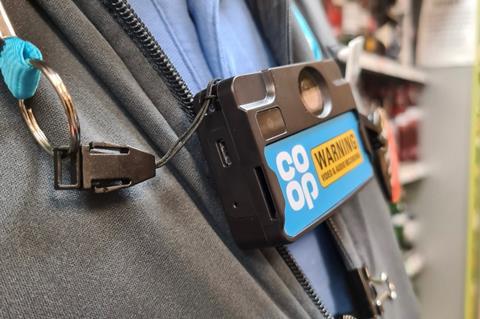 Retail leaders have piled pressure on Boris Johnson to better protect shopworkers in a letter signed by 65 CEOs.
The letter urges the prime minister to follow Scotland's example by creating a new statutory offence of assaulting, threatening or abusing a retail worker.
Signatories include the CEOs of Asda, Sainsbury's, Morrisons, Aldi, Lidl, Waitrose, Co-op Food, Iceland and M&S.
The letter calls on Johnson to tackle the "increasing problem of violence and abuse being experienced by hundreds of thousands of our colleagues", which has worsened in the pandemic.
"Many of our colleagues remain on the front line and while they are acting to keep the public safe, their personal safety is threatened as a result," the letter says.
One business reported seeing over 4,500 violent incidents involving a weapon in 2020, according to the letter. Another saw violent incidents against staff soar 600% "because of implementing Covid restrictions, including enforcing the wearing of face coverings".
Retailers have recently been split over their approach to face mask enforcement. A string of major supermarkets last month bowed to government pressure by saying customers without masks would be refused entry, while Iceland and the Co-op stopped short of a similar policy, citing rising abuse of workers.
The letter from 65 CEOs, dated 4 February, said the industry had invested £1.2bn in crime prevention measures in the past year, including supplying body-worn cameras and employing more security guards.
Co-op began supplying frontline staff in hundreds of stores with body cameras last year. The letter's signatories also include the bosses of JD Sports and Boots, two more retailers using body cameras. Reveal, the company supplying the cameras to Boots and JD Sports, recently reported seeing an 80% increase in new retail customers since the start of the pandemic.
Scottish Parliament last month voted in favour of a bill to create a new statutory offence of assaulting, threatening or abusing a retail worker.
Similar legislation in England "could easily be included in the upcoming Sentencing Bill, either during its introduction, or through an amendment," the letter said.
The BRC hopes it would lead to tougher sentences for offenders.
"The BRC has repeatedly called on the government to take action and protect our colleagues from harm," said BRC CEO Helen Dickinson. "Every day over 400 retail staff are attacked, threatened, or abused in their place of work. Over 150,000 in 2019, and these numbers have been rising during the pandemic. Those attacked are our friends, our family, our colleagues. This cannot go on.
"The recent surge in violence should serve as a wake-up call for government. Retail workers are playing a vital role during the biggest public health crisis of our time – ensuring everyone has access to the items they need and keeping stores safe for customers and colleagues. And, at what cost?
"They have been coughed at, spat on, racially abused, threatened with weapons, the list goes on. No one should go to work fearing for their safety, and we hope the prime minister will play his part by introducing a new offence for abusing, threatening and assaulting a retail worker."