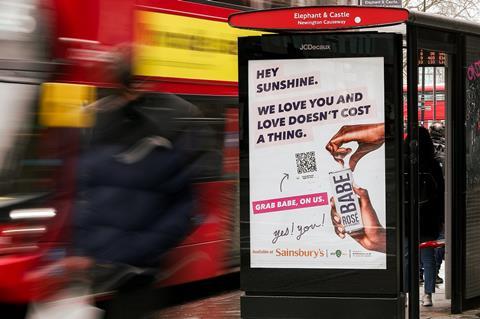 Cashback app GreenJinn is enabling brands to bypass store promotion processes with offers redeemable by customers via online and out-of-home advertising.
GreenJinn's new tool, called Treasure, allows brands to place a QR code or link button on adverts, which when scanned or clicked open a landing page. The landing page shows the stores nearby that stock the advertised product.
Users download the GreenJinn app, where a coupon for the product is displayed. When they buy the product in one of the stores shown, they scan their physical receipt in the app and receive cash back.
A beta version of Treasure has already been used by AB InBev's canned wine brand Babe – launched in May last year – and its Mike's Hard Seltzer brand, to run free sampling campaigns.
Babe used Treasure on OOH advertising close to Sainsbury's stores in London over a two-week period last month. The ads featured a QR code, which can be scanned to explain and redeem the offer.
"For brands like Babe launched over the past year, introducing new products to customers has been particularly challenging. Finding innovative ways to allow customers to sample our canned wine has been critical in our journey," head of Babe UK Alena Linhartová told The Grocer.
"It's proven very effective for driving a trial of a new product in an emerging category in a contactless and user-friendly way. We are already working on a few ideas where we can incorporate this tool in other marketing activities we have planned for Babe this summer," she added.
Mike's Hard Seltzer ran a similar campaign in October last year. Close to 5,000 cans were sampled over a four-week period. Some 60% of the redemptions happened in Tesco and 40% in Morrisons stores, split across three flavours.
"With Mike's Hard Seltzer we're launching a new brand in a new category in the UK, so it's really important for us to use data-driven partners like GreenJinn to support us in our growth journey and helps us raise awareness around our product," said the brand's marketing manager Alexandre Wellens.
Lavazza has also used Treasure this month to promote purchases of its Carte Noire range, which brand manager Charlotte Parke said "worked brilliantly".
"We were able to re-engage with former consumers, retarget acquired customers as well as track our conversion funnel which helped measure and increase the effectiveness of our budget," she said.