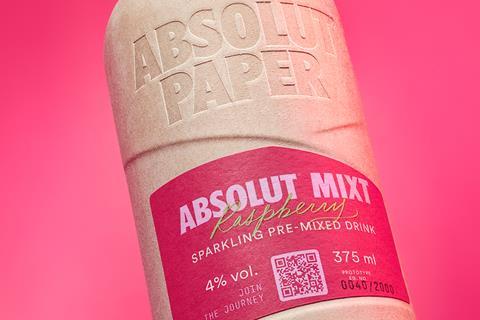 Absolut Vodka is trialling a protoype paper vodka bottle.
The Pernod Ricard brand has created a bottle made up of 57% paper and 43% recycled plastic, and has kicked off consumer trials in the UK and Sweden.
The outer bottle is made entirely of paper, with the plastic used only for a thin layer on the inside. Two thousand have been made for the trial.
The trial will see Absolut collaborate with "design-led and sustainability influences" to "drive awareness of the prototypes" on social media.
In the meantime, it has rolled out what it claims is its "most sustainable" bottle yet into retail.
The limited-edition vessel is made from 60% recycled glass, and will roll into the mults from the beginning of February.
It was "inspired by different walks of life coming together, celebrating the spirit of mixing and connectivity", said the brand.
The bottle features a swirl, which represented "the swirling motion found when stirring Absolut's cocktails", it added.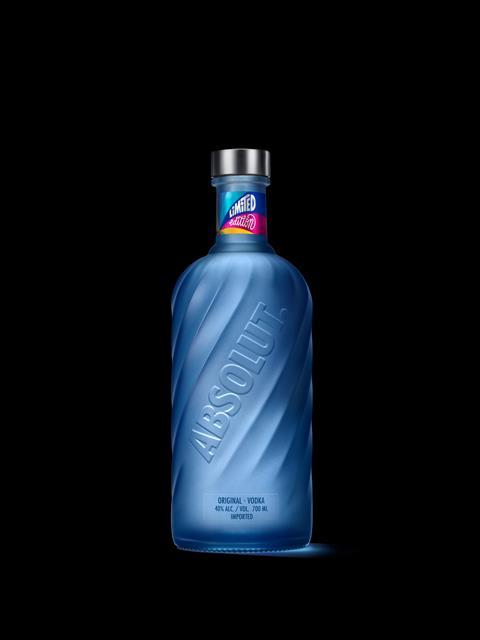 Absolut "understands the crucial role we must all play in reducing pressure on the environment," said Marnie Corrigan, brand director at Absolut owner Pernod Ricard UK.
"Lasting change takes time, but we will continue to use our research and development facilities to inform how we produce packaging to make it more sustainable."
The Pernod Ricard brand has pledged to significantly slash its impact on the environment by 2025, by ensuring all its primary packaging is 100% recyclable, compostable, reusable and/or bio-sourced.
Pernod Ricard isn't the only spirits giant cracking down on the environmental effects of its packaging.
Bacardi, for instance, plans to launch a new bottle made from a plant-based biopolymer, which biodegrades in just 18 months, later in 2021.