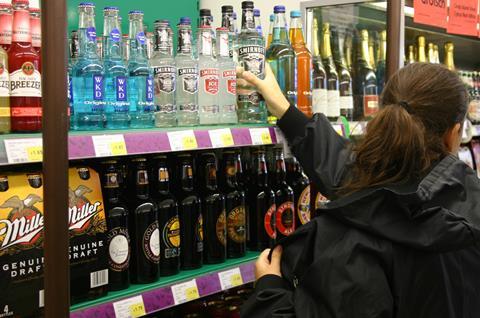 Violence and abuse against shopworkers rose 7% in the year to April 2020, according to the BRC's latest annual survey into the scale of the issue.
Shopworkers faced 455 incidents of violence and abuse each day during the 12-month period, according to the BRC 2021 Retail Crime Survey, published today.
It equates to over 50 incidents an hour, or almost one attack a minute in a nine-hour working day.
Meanwhile only 54% of the crimes were reported to police and only 6% ended in prosecution.
It means 155,000 cases went unprosecuted. Just 3% were prosecuted as an aggravated offence with the potential for a stiffer sentence.
The report said in 94 out of 100 cases, the employee was let down by the system.
"These are not mere statistics, those affected are our parents, our partners and our children, all who needlessly suffer, just for doing their job," said British Retail Consortium CEO Helen Dickinson OBE.
"Many incidents arise as staff carry out their legal duties, including age verification and more recently implementing Covid safety measures. And, despite retailers spending enormous sums on crime prevention, the situation is only getting worse."
The report also found the cost of crime had soared over the last three years, with 2019/20 marking a record cost of £1.3bn. The most significant contributor was customer theft, which cost companies £935m. The rise came despite retailers spending £1.2bn on crime prevention.
Nearly 40 organisations, including the BRC, have urged the government to bring forward a new clause to its Police, Crime, Sentencing and Courts Bill that would deliver greater protection against crime for all frontline shopworkers.
The Scottish parliament has already taken action to better protect retail workers through Daniel Johnson MSP's Shopworker Protection Bill.
Dickinson added: "Will retail workers in England and Wales ever receive the protection they deserve? Despite clear evidence showing the escalation of violence and abuse against retail workers, the government has time and time again chosen not to act.
"Scotland has sent a clear message that the rise in violence and abuse must end, and the rest of the UK must follow their lead."
Scottish Retail Consortium head of policy Ewan MacDonald said: "Regrettably retail crime continues to rise year on year, with shopworkers facing ever-increasing levels of verbal and physical abuse. It's absolutely unacceptable this appalling behaviour continues and it's clear more needs to be done to protect retail workers.
"Earlier this year the Scottish parliament took a strong first step by passing legislation to make it a specific offence to abuse a retail worker. It's now vital that Police Scotland use that law, along with all the powers available to them, to focus on dealing with these perpetrators and help keep colleagues and customers safe."