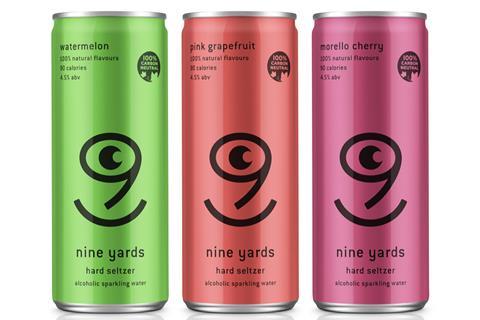 Accolade Wines is making a major move into hard seltzers.
The Echo Falls and Hardy's owner has launched a new brand called Nine Yards, which is billed as 100% carbon neutral and made from 100% natural flavours.
It has rolled out with three flavours – Pink Grapefruit, Watermelon and Morello Cherry – all of which come in at 4.5% abv and are infused with milk thistle, into a dedicated DTC shop (rsp: £2.50/330ml). They contain 90 calories per can.
Nine Yards isn't technically the first hard seltzer launched by Accolade: it rolled out a trio of Rosé Seltzers for Echo Falls last year. But it is the first standalone hard seltzer brand for the winemaker.
It comes after Accolade massively expanded its production capabilities last year with a huge £7m investment into The Park, its former bottling site, which it also launched as a standalone contract booze production business able to produce everything from wine to soft drinks and spirits.
Hard seltzers had "soared in popularity in the UK and Nine Yards is aimed at the growing group of adventurous and environmentally conscious shoppers", said Accolade marketing director Tom Smith. Cans were "the ideal format for out-of-home consumption during the summer months and a refreshing option to enjoy when in the home".
Accolade was "confident our new 90-calorie and vegan Nine Yards lineup will stand out from the competition".
It makes Accolade the latest big name in booze to launch a standalone hard seltzer. Molson Coors launched Three Fold, a completely new hard seltzer brand, this year, and is ploughing £5m into a massive ad campaign for it.
Asahi UK, meanwhile, rolled out new brand Viper in June, debuting with a duo of drinks made using "the purest spring water".