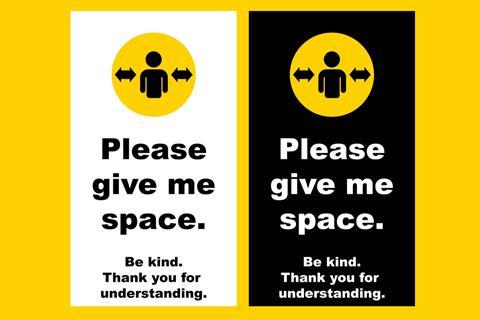 The Association of Convenience Stores is encouraging local shops to take part in a new campaign designed to support those who find it difficult to socially distance.
The initiative will offer these individuals, including those with sight, cognitive or mobility impairments, an emblem to wear that signals to others 'please give me space'.
It can be used on a range of resources including lanyards, ID cards, face masks, snoods, pin badges and tabards, and displays a yellow circle with a person in the centre that has two arrows pointing out.
It is a concept developed by The Hidden Disabilities Sunflower in collaboration with the Royal National Institute of Blind People and endorsed by the UK government's Cabinet Office.
"Local shops are lifelines for the communities that they serve and it is important to remember that there may be people who are in need of additional assistance during this difficult and uncertain time," said ACS CEO James Lowman.
"We are delighted to be able to support this fantastic campaign, which builds on the work that local shops have been doing to support vulnerable customers and colleagues in-store."
More information about the 'please give me space' campaign and how to get involved is available here.