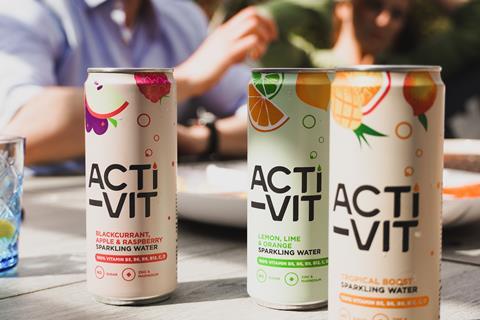 Actiph has launched a vitamin-packed functional drinks brand called Acti-Vit.
The new flavoured sparkling water drinks had "one of the highest vitamin concentrations on the market", said Actiph.
They contained 100% of the RDA of vitamins B5, B6, B9, B12, C, D and zinc and 15% of the RDA of magnesium, it added.
They are packaged in aluminium cans and have rolled out in a trio of flavours: Tropical Boost, Blackcurrant, Apple & Raspberry and Lemon, Lime & Orange (rsp: £1.29-£4.49/330ml-4x330ml).
Its multipack format launched at Ocado last month and the brand was in "advanced discussions" with a number of other major retailers, it said.
The drinks would appeal to health-conscious consumers who were moving away from sweetened drinks and juices, it added.
Actiph founder and director Jamie Douglas-Hamilton said they were "a delicious and convenient way to boost vitamin intake and support consumers' health goals".
He told The Grocer consumer research had revealed during lockdown "there was a real demand for drinks with added benefits, especially vitamins".
"Consumers are changing their eating and drinking habits and are trying to move away from high-sugar drinks", he added.
It comes after Actiph saw its revenues double and exports soar by 300% during the coronavirus crisis.
The alkaline ionised bottled water startup reported revenues up 1,000% on Amazon, 800% on Ocado and 300% in smaller online retailers as consumers sought to boost their health in the midst of the pandemic.