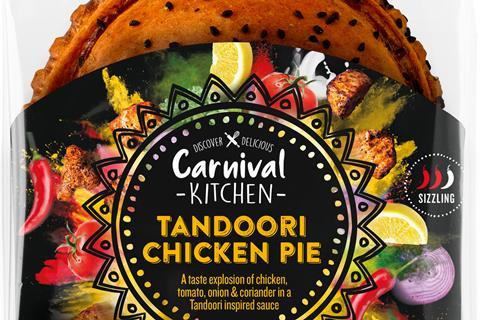 Addo Food Group has unveiled Carnival Kitchen, a premium, savoury snacking brand "inspired by fabulous streetfood from around the world".
The six-strong lineup comprises flatbreads, pies and bites, with flavours from the US, Thailand, Mexico, India, Jamaica and South Africa.
Philly Steak & Cheese Pie, Tandoori Chicken Pie, Jerk Chicken Flatbread, Red Thai Pork Flatbread, Piri Piri Chicken Bites and Cheese & Jalapeño Bites (rsp: £2.50/140g-145g) can be eaten cold or hot.
They will roll into selected Waitrose stores today (29 Sep) followed by Asda on 18 October.
The new chilled snacks had "been developed to bring a new tasting experience to consumers, while also fitting seamlessly into their busy lives" said Mike Holton, brand manager at Carnival Kitchen.
"Consumers are still looking for snacking experiences to deliver bigger and better taste adventures, while also featuring quality ingredients that have the flexibility to be enjoyed both hot and cold," he added.
To mark Carnival Kitchen's launch, the brand will visit London, Birmingham and Manchester throughout October to hand out free samples.
"Commuters, families and students will all be able to get into the carnival spirit with the addition of a steel band and carnival dancers, to really bring the brand and its products to life," Holton said.
It comes 10 months after private equity group PAI Partners snapped up Addo last November alongside Winterbotham Darby, with the aim of creating a chilled foods supplier to rival the likes of Greencore, Bakkavor and Samworth Brothers.