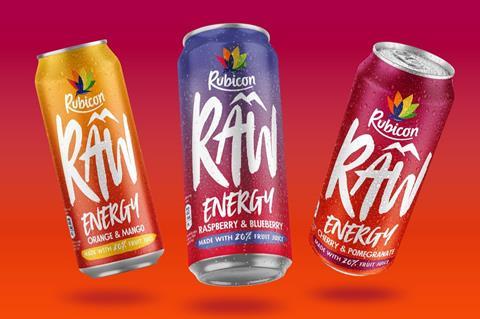 AG Barr is set to go head to head with its former partner Rockstar Energy with the launch of its own Rubicon energy drinks range.
The Scottish soft drinks giant has created a trio of Rubicon Raw Energy drinks: Orange & Mango, Raspberry & Blueberry, and Cherry & Pomegranate.
They are touted as being made with 20% fruit juice and contain natural caffeine from green coffee beans as well as B vitamins, ginseng and guarana. They will roll out in 500ml cans, with each can containing 107 calories (rsp: £1.29).
AG Barr – which also makes Irn-Bru – distributed and sold Rockstar in the UK until last year, when Rockstar sold up to PepsiCo in a titanic $3.85bn (£3.19bn) deal. AG Barr netted £7.6m in compensation for the termination of its deal with Rockstar.
Barr Soft Drinks marketing director Adrian Troy said the business had "invested heavily throughout the development of Rubicon Raw to understand the energy consumer better, and what's relevant in their lives today".
He said: "They adopted the category as young adults, but many have matured and evolved as consumers since then and are calling out for something new."
Rubicon was "a big brand with broad appeal and a proven track record of delivering successful innovation", he added.
The launch will be backed by a £1.5m push as well as supporting in-store and in-depot PoS materials.
The NPD comes on the back of a less-than-stellar performance for Rubicon's core soft drinks. Sales of its carbonates fell 8.2% to £13.9m in 2020, while its juices dropped 13% to £11.9m [Nielsen 52 w/e 5 September 2020].
Rockstar didn't have a great year either – the drink lost 12.3% of its value over the same period, while rival Monster hoovered up sales, growing 17.7% to £286m [Nielsen].