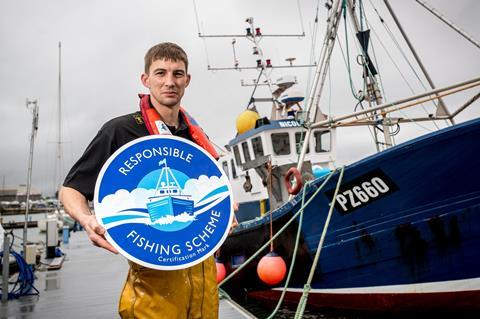 A wide range of UK-caught fish is to appear in Aldi stores from this week as the discounter bids to help the fishing industry bounce back from a Covid-related slump in demand from hospitality.
The seven-strong range of Specialbuy products is set to include species such as dover sole (rsp: £3.69/two-fillet pack), monkfish medallions (rsp: £3.99/200g) and – in what Aldi claimed was a UK retail first – turbot (rsp: £24.94/1kg), which will be sold in fillets weighing between 140g-180g.
Sourced from existing Aldi supplier Sound Seafood, the fish will come from south-western markets such as Plymouth, Brixham and Newlyn. The launches will be accompanied by preparation and cooking inspiration from restaurateur Mark Hix.
These SKUs will begin to appear each week from 13 May until the week of 3 June, with more species appearing throughout July. All the products will be available while stocks last.
"At Aldi, we're committed to supporting British food producers," said Aldi MD of buying Julie Ashfield, in reference to Aldi's commitment to spend an additional £3.5bn per year with British suppliers by 2025.
"With so many challenges facing the British fishing industry, we spoke to our suppliers to see what we could do to help. We're delighted to be able to purchase this seasonal fish stock that might otherwise go to waste, and it's great for customers too who'll be able to enjoy restaurant-quality seasonal fish at Aldi prices," she added.
2020 was a torrid year for domestic suppliers, with poor weather at sea limiting catches in the first quarter before coronavirus restrictions last March led to the widespread closure of hospitality venues both in the UK and Europe.
Consequently, while retail seafood sales of largely imported species boomed as consumers were confined to in-home occasions, UK fish prices crashed – a situation that led to a government bail-out of the industry.
Domestic fishers were then hit again at the beginning of 2021 as Brexit caused an increase in red tape for exporters, which meant supply chains struggled to deliver seafood to continental customers on time.
Aldi's announcement was welcomed by Plymouth Fish Market auctioneer Alison Pessell, who described the discounter's move as a "fantastic boost" and a "real lifeline" to the fishing industry.
It is the latest major retailer to expand its supply chain for UK-caught species. Last year, Waitrose announced it would start selling British-caught MSC-certified clams and cockles originally destined for upmarket restaurants.
Meanwhile, Morrisons acquired family-owned Cornwall-based seafood wholesaler Falfish in March – a move that was understood to make Morrisons the first British supermarket to own a fishing boat.
Government quango Seafish has also sought to push consumers into buying more domestically caught fish through its long-term Love Seafood campaign.