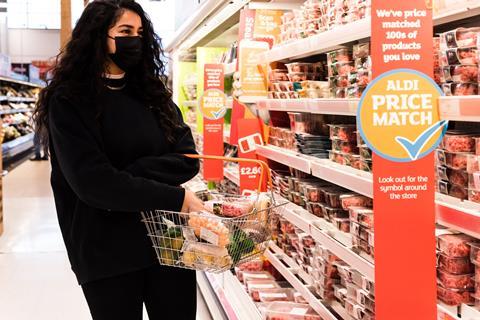 Aldi could contest a number of the product comparisons in Sainsbury's 'Aldi Price Match' campaign because the discounter's are of higher specification, according to independent analysis.
Retail consultancy IPLC examined 65 randomly selected products from Sainsbury's recently launched 'Aldi Price Match' campaign, and found 15 fell short compared with the discounter's on key ingredients.
Sainsbury's tinned Chicken Curry – which The Grocer revealed actually rose in price by 15p to £1.05 as the campaign launched – contains less chicken than the claimed Aldi match, the analysis found.
"Aldi's product has 35% chicken whilst Sainsbury's is a chicken & vegetable curry with only 15% chicken in it," said IPLC UK partner Paul Stainton, who conducted the analysis.
"Aldi's Smooth Peanut Butter contains near-brand matching 94% peanuts whilst Sainsbury's price-matched Hubbard's contains 89%."
Other examples include salami. Aldi's is made using 9.5% more pork per 100g than Sainsbury's, according to the analysis.
"Aldi can genuinely contest some of the price match claims," said Stainton.
However, IPLC also found the Sainsbury's products sometimes out-specced the claimed Aldi equivalent, albeit in a smaller number of cases, at six. They included frozen pork sausages, containing 42% pork at Sainsbury's compared with 32% at Aldi.
Of the 65 comparisons examined, in 36 cases the Aldi and Sainsbury's products were of equivalent specification, according to IPLC. In eight cases the declared key ingredient quantities were not directly comparable.
Sainsbury's campaign, launched last month, follows a similar one embarked on by Tesco last year, also branded as 'Aldi Price Match'.
Stainton said: "Maybe the big four should take a leaf out of some other European supermarkets' books. The likes of Edeka, Rewe and Albert Heijn have simply ensured that their own label tier matches Aldi and Lidl in every aspect: quality, packaging and price, stemming the growth of the discounters as a result."