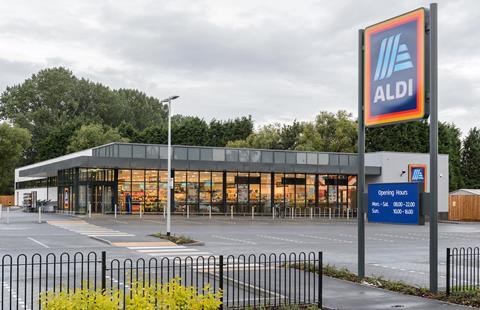 Aldi has extended its Sunday opening hours in England and Wales to give customers "more time to stock up on food" while the Euros football championships are on.
From this Sunday (13 June) ahead of England's match against Croatia, the stores will open half an hour earlier.
Most Aldi stores in England and Wales are usually open from 10am to 4pm on Sunday. The extra half an hour means they will be open from 9.30am until 4pm instead.
However, the additional 30 minutes will be for browsing only, in line with Sunday trading laws in England and Wales, which limit large stores to six consecutive hours between 10am and 6pm.
In Scotland there are no such Sunday trading hour restrictions, and Aldi stores will continue to open at the usual time of 8am.
The government has so far resisted repeated calls from supermarket bosses during the pandemic for Sunday trading rules to be lifted to ease congestion and aid social distancing. Meanwhile, convenience bosses have warned such a move would only shift sales away from their sector, threatening jobs.
In April last year, Morrisons defied the restrictions by opening half an hour earlier for NHS workers.
Aldi's new Sunday opening hours in England and Wales are to be in place "throughout the summer to also give shoppers across the UK chance to visit their local store at a quieter time" said a spokesman.
Aldi UK communications director Richard Thornton added: "We can't wait for the football to kick off this weekend and want to help our customers enjoy the tournament as much as possible. Opening earlier will give fans more time to stock up on the great-quality Aldi bargains they need to enjoy the football."