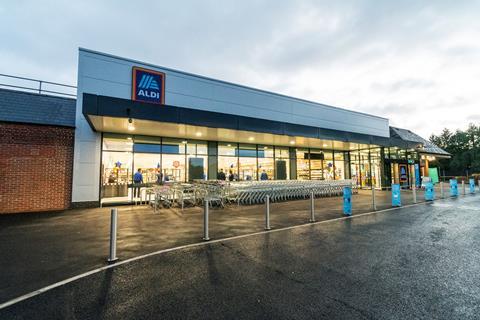 Aldi missed its estate expansion target last year due to the disruption of the pandemic, opening 37 stores instead of the 50 planned.
The discounter has opened 50 stores or more annually for the past five years. With around 900 UK stores currently, it needs to open more than 50 a year to reach its long-term target of 1,200 branches by 2025.
In July last year, after the initial lockdown period, Aldi said its store opening programme was on course, with one to be opened a week between then and Christmas, creating 1,200 new permanent jobs.
However, delays to construction work and store fitouts under Covid restrictions have forced it to push some of the 2020 target into 2021.
The long-term target of 1,200 by 2025 is unchanged and the business is confident it can make up for lost progress this year.
Lidl, which has a long-term target of 1,000 stores by 2023, also said last July its expansion programme remained on course, with 25 stores to open in the following six months, building on its estate of over 800 branches.
A Lidl spokesman this week said it was "on track to open more than 50 stores this financial year", which runs to the end of February.
An assumption that Aldi opened about 50 stores as usual last year has led analysts to argue the discounter should have seen greater Christmas sales growth than it did. Aldi's Christmas trading update put its year-on-year sales growth at 10.6% in the four weeks to 24 December, while Lidl reported 11% growth YoY in the four weeks to 29 December.