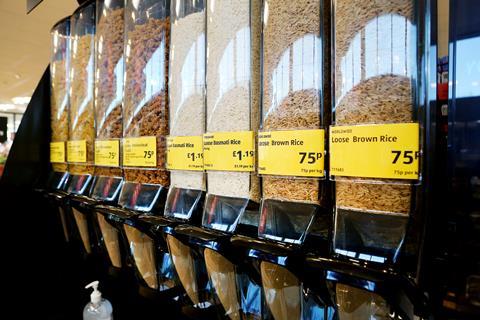 Aldi is to become the first discounter to offer customers household staples completely free of packaging.
Aldi began selling several varieties of rice and pasta from a bank of dispensers in April, but the move was not truly packaging-free, since customers had to use a free paper bag. The filled bags were weighed at the checkouts, where there was no facility for factoring in the weight of a customer's own container.
Aldi plans to resolve the issue from September, when it will add a weighing station at the bay of dispensers at its single-store trial in Ulverston, Cumbria. Customers will be able to weigh their containers before and after filling, eliminating the need for the paper bag.
Aldi hopes the move will encourage more people to try the refill stations while also filling their own containers with greater volumes.
The fully recyclable FSC-certified paper bags will still be available for customers who choose to use them.
Aldi plans to roll the initiative out to other stores if it proves successful.
In April, as it unveiled the dispensers of basmati rice, brown rice, penne pasta and wholewheat fusilli, Aldi said a rollout could save 130 tonnes of plastic a year.
The September change will make it a 'refill' trial – similar to moves on a bigger scale by supermarkets such as Waitrose, Asda and M&S – rather than simply a 'fill' trial.
Asda opened a 'sustainability store' in Leeds last year, with big brands in dispensers, and is working towards opening several more.
Waitrose sells a range of products in refillable format at its four 'Unpacked' stores, the first of which opened two years ago.
M&S has 'Fill Your Own' refill aisles in 11 Food Halls, featuring about 60 grocery lines.