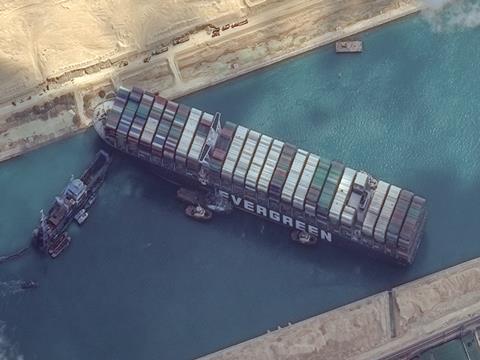 Supermarkets are warning of knock-on delays to the arrival of non-food stock following the blockage of Egypt's Suez Canal for nearly a week.
Aldi has been warning customers of delays of up to a month or more on its middle aisle 'Specialbuys'.
"We're sorry," the discounter said on Facebook. "The Specialbuys you're looking for may have been delayed due to current events. We are working hard to make them available as soon as possible."
Early this week, about 20 products were listed as affected on Aldi's website. By Thursday (8 April) the list had been updated to 10.
Seven of them, all cycling-related including a mountain bike, had been advertised as available from 15 April but were now not expected until mid-May. A metal jerry can and multi-purpose floor mat were also delayed by about a month to mid-May, while a travel cot, originally expected on 28 March, was now due late April.
Aldi has revealed little else but confirmed to The Grocer the Suez blockage had contributed to the disruption.
Lidl also thought it likely the Suez blockage would lead to delays to some non-food products in the coming weeks, though it said it was not currently experiencing issues.
Ever Given, a 1,300 ft-long, 220,000-tonne container ship, was finally freed on 29 March, after becoming stranded and blocking the canal's midway point on 23 March. The blockage held up an estimated $9.6bn (£7bn) of goods each day, causing huge tailbacks.
The canal is one of the world's busiest trade routes, accounting for about 12% of total global trade. The 120-mile passage from the Red Sea to the Mediterranean provides a route for huge shipments from Asia to Europe, allowing UK retailers to import from manufacturers in countries including China, Indonesia, Vietnam and Malaysia.
The Ever Given, operated by Taiwanese company Evergreen Marine, became wedged lengthwise across the narrow passage while on its way from China to Rotterdam in the Netherlands. It was eventually freed in a huge salvage operation involving specialist Dutch team Smit and 13 powerful tugs, allowing hundreds of queueing supertankers to pass.
Egypt is formally investigating the cause.
Aldi's news found little sympathy from customers on Facebook. "For God's sake, where am I going to get a kayak and caravan steps from now?" wrote one.