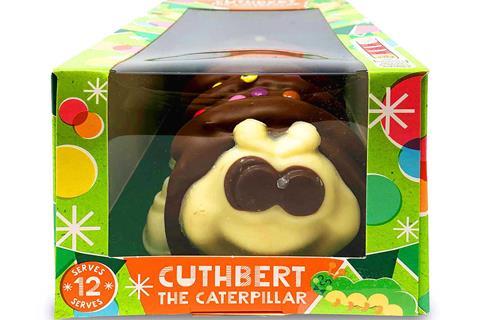 Aldi has taunted M&S by announcing its Cuthbert the Caterpillar cake is going back on sale.
The discounter has said some of the profits from its sale will be donated to M&S's partner charity, Macmillan Cancer Support.
It's thought to be the first time Cuthbert has been on sale since February and follows a High Court claim filed by M&S last week accusing the cake of copying its own Colin the Caterpillar.
Colin the Caterpillar's association with Macmillan was cited by M&S in its announcement of the action, which accused Aldi of "attempting to ride on the coat-tails of M&S's substantial reputation in the product".
Aldi's social media team has been making light of the development and teasing M&S since the claim was announced on Thursday, using the hashtag #FreeCuthbert.
The discounter today posted: "Hey Marks and Spencer we're taking a stand against caterpillar cruelty. Can Colin and Cuthbert be besties? We're bringing back a limited edition Cuthbert next month and want to donate all profits to cancer charities including your partners Macmillan Cancer Support and ours Teenage Cancer Trust. Let's raise money for charity, not lawyers #caterpillarsforcancer."
A spokesman said Aldi was also calling on other major supermarkets, who sell their own caterpillar cakes, to "join it and M&S in raising money or cancer charities through the sale of caterpillar cakes".