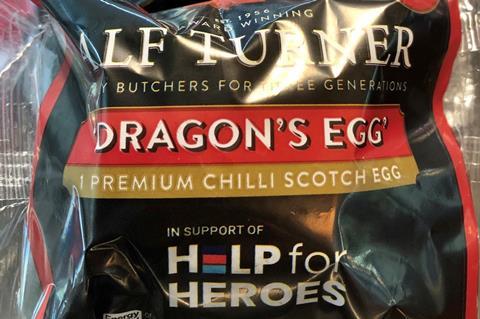 Alf Turner's Dragon's Egg has hit shelves at One Stop.
The chilli scotch egg went on sale last week across more than 150 stores, both company-owned and franchise, with an rsp of £1.50.
The Hampshire-based butcher already supplies the product into the convenience channel through Spar wholesalers AF Blakemore, CJ Lang and Appleby Westward. It is also sold at Waitrose.
"This means we can get the product in front of more people," said owner Paul Turner. "We work very well in convenience, because it's a different product and there's a forward-growing trend for true chilli products.
"They pack a punch and do exactly what it says on the packaging, which is something I was very keen to do."
One Stop head of fresh buying Richard Ward said: "We're excited to have brought the Alf Turner Dragon Egg on board. The product from the award-winning family butchers will complement our existing chilled range and we're looking forward to hearing feedback from our customers."
Two pence from every product sold is donated to Help for Heroes.
The family butcher brand told The Grocer it had raised £221,000 for the forces charity from sales across its entire range, after becoming its first corporate partner in 2010. It said it has so far sold around 4 million eggs.
Turner said the new listing at One Stop would help bring it a step closer to "breaking the £250,000 barrier" by the end of the year.