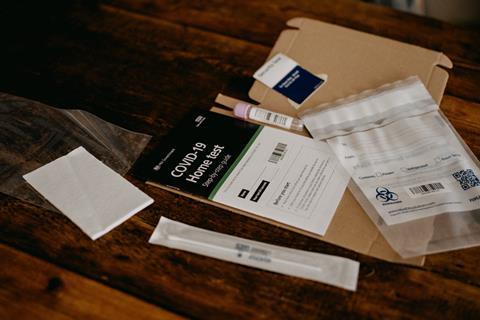 Food and drink workers across the entire supply chain will have to be tested for Covid "every few days" in the next phase of the war on the virus, it has emerged.
Talks between food industry leaders and the government were being held this week in a bid to ramp up mass testing after it emerged there had been "relatively slow" take up of the millions of tests being offered by ministers to companies.
However, The Grocer understands a target has been set by Defra for three-quarters of all food and drink companies to be involved in the programme by the end of the month.
Talks this week concentrated on extending testig from food factories to other parts of the supply chain, whilst there were also calls for the threshold for mass testing to be lowered amid fears "millions" of test kits were laying idle in government offices.
"It's an important priority for us. We do have to get mass testing rolled out across the whole sector," FDF CEO Ian Wright told MPs on the Environment, Food & Rural Affairs Committee.
"The next stage of this has to be that we test most people most of the time. I don't know whether it would be every day, every two days or every three days but it certainly is a thing we need to roll out. We are rolling out across factories and we are trying to roll it out across the supply chain.
"We need to push harder on this now because this is the next stage of ensuring everyone's safety."
Read more:
This week it emerged Tesco had offered to help boost testing by carrying out trials of home testing kits for staff, on top of the on-site testing so far rolled out at food factories, distribution centres and some supermarkets.
Concerns over the level of take-up comes with only around a quarter of eligible companies believed to be taking part, despite the government offering mass testing until the end of March for companies with more than 50 employees.
This week there were also calls for the threshold for access to testing to be lowered, with The Grocer revealing last month four in five food companies are missing out because they are too small.
Federation of Wholesale Distributors (FWD) CEO James Bielby told MPs on the committee there were "several million of them sitting in a cupboard somewhere in DHSC".
He added: "The vast majority of the members we have have fewer than 50 [employees]."
Small companies have been told to tell their staff to use local authority testing sites but Bielby said they were "patchwork, inconsistent and much more difficult to access".
"A line has been drawn which is too high for a lot of small businesses," he said.
"There has been relatively low uptake of the mass testing kits that are available until the end of March for free so perhaps something could be done to redistribute them to small businesses."
One national food and drink manufacturer told The Grocer: "Communication hasn't been great with Defra so we have decided to provide support to staff when a colleague has symptoms and colleagues they have been in contact with."
Another major wholesaler added: "We have been so busy with trade, cleaning up Brexit and deploying new systems it has been overlooked."
Some other companies have said they will concentrate on enforcing strict social distancing measures and intend to snub the testing program.