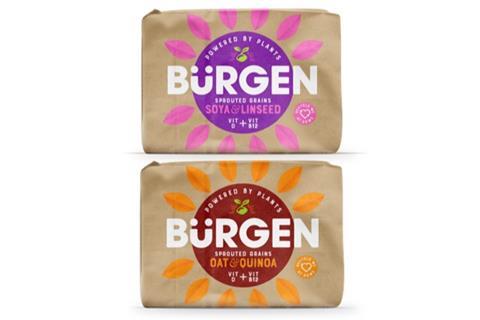 Allied Bakeries has given Burgen its third makeover since 2017 after it suffered a massive sales plunge.
The brand has been given a new logo and renamed from Burgen to 'Bürgen' with a new 'powered by plants' strapline on-pack.
Its Soya & Linseed and Oat & Quinoa loaves have been relaunched as a Sprouted Grains range with new recipes and smaller, 12-slice packs (rsp: £1.50/575g).
The new loaves were baked with one-quarter sprouted wholegrain flour to attract "a healthy-eating crowd", said Bürgen. They responded to "current and continuing consumer demand for plant-based options that are positive choices for the environment".
The new iteration of the loaves are also packaged in kerbside recyclable paper bags rather than plastic. They have rolled into Sainsbury's, Ocado and Nisa.
The relaunch, Bürgen's third in five years, follows a disappointing year of sales for the brand: 2020 saw its value sales plunge 37.9% to £3.1m, on volumes down 42% [Nielsen 52 w/e 5 September 2020].
Since the brand launched in 1997 "as a pioneer in healthy seeded bread taking the market by storm", the market had "seen significant growth with seeded becoming a much more competitive arena and Burgen has lost market share", said Bürgen brand owner Peda Alabi.
"Bürgen needed to rediscover its reason to be and meet the changing demands of our consumers so we have redefined our brand positioning, making the move from a more functional health to positive plant-based position."
"We know over 70% of Bürgen shoppers are from two to three-person households, therefore our new sprouted grain range has 12 full size slices, meaning it is still great for sandwiches and toast but also minimises waste."
In 2018, Allied attempted to "breathe new life" into the brand, whose sales had consistently fallen since 2015 (its value had shrunk from £12.2m to £7.2m over the 157 weeks to 8 September 2018) with a packaging and marketing update designed to tap shoppers' "health concerns" [Nielsen].
Allied spent around £300k on a campaign called #DiscoverBurgen, which featured partnerships with TV presenter and wellbeing advocate Melanie Sykes and Harley Street nutritionist and author Rhiannon Lambert, which it said was "one of the biggest investments in the brand since its UK launch in 1997".