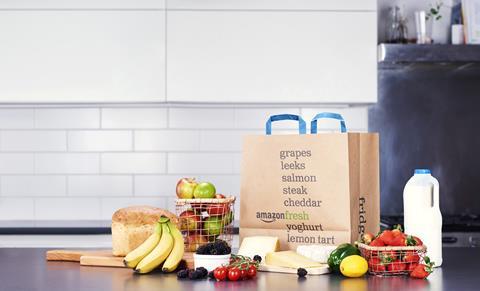 Amazon is turning the screws on its growing grocery supply base with tougher new terms as shoppers use it to spend more money on food and drink products.
New terms proposed by Amazon to suppliers seen by The Grocer revealed requests for lower cost prices, bigger marketing fees and longer payment terms, with the option to move from 60 days to 90 days or remain on 60 with a 1% discount for quick payment or 75 with a 0.5% discount.
Suppliers must tick a box to either agree or disagree with the terms.
The new Amazon terms sheet also stressed that "improving product costs is essential for the overall health of your business on Amazon and may have an impact on the number of orders you receive."
Suppliers have noted "life has become harder for sellers and brands" on Amazon's platforms in the past three to six months, "in the light of record Amazon revenues following the pandemic's online uplift."
"Notable pressure has been applied on reducing the cost pricing paid by Amazon for stock via their vendor model, at the same time as insisting on inflexibility with certain terms that would typically be negotiable – including marketing fund allocation and order quantities and frequencies."
Another supplier added brands were able to push back, but typically had to fold on some of the new terms.
Amazon told The Grocer it reviewed individual agreements directly with vendors and did not unilaterally impose new terms. Vendors could also propose alternative offers and use a 'contact us' button on Vendor Central to raise issues, a spokesman added.
But Young Foodies co-founder Theadora Alexander said the new terms were "a painful squeeze on absolutely everything commercial".
"They are imposing aggressive terms to brands for whom they represent the majority of their business. As a faceless robot, it is even harder and more intimidating than a normal buyer."
Alexander also called on the Groceries Code Adjudicator to "review the governance piece as Amazon have become even more powerful and an even bigger part of grocery businesses in the last year".
Despite soaring grocery sales, the online giant is not regulated by the Groceries Code Adjudicator, as its code requires grocery sales above £1bn. David Sables, CEO of Sentinel Management Consultants, noted it made sense for Amazon "to get the ugly part of pressuring suppliers out the way" while it remained below the GSCOP radar.
"The timing of the new terms could indicate an intention to make a bigger move in grocery," he added.
An Amazon spokesman told The Grocer: "We strive to build successful, long-term relationships with our vendors, and work with them every day to help them be successful. We are always looking at new ways to help our vendors grow their business and offer a great shop window for products in the UK and around the world."
The coronavirus-fuelled growth in online shopping has helped Amazon increase global revenues 38% to $386bn in 2020. A record 50% of UK households now have access to its Prime services, with 21 million members signed up, according to the latest research by Mintel.
Sables said Amazon provided "a really good service" and had opened up a whole new channel for grocery brands in the UK to build a sizable business relatively easily.
"It's very easy to get a listing with Amazon by following its box-ticking systems interface, compared with the space-based environment of a physical Tesco or Sainsbury's store," he added.
"However, even though [Amazon takes] a quite complex systems-led approach, there is still a more traditional buying organisation like any other laid on top.
"Some suppliers will be thrown on how to correctly enter negotiations with Amazon when these standard demands on new terms come up, and they won't be prepared for how to proceed if they tick the box to disagree with the new arrangements.
"Amazon is a buying organisation like any other and suppliers need to be ready to negotiate as they would with the likes of Morrisons, Asda, Sainsbury's or Tesco."