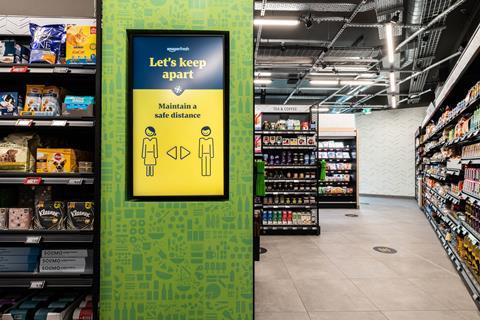 Amazon has launched a new Fresh store in London, in Canary Wharf.
It is the fourth Fresh checkout-less convenience grocery store to be opened by the e-commerce giant since the launch of its first physical retail site outside North America in Ealing in March. Other Fresh stores are situated next to Wembley Stadium and in White City.
Amazon has opened new Fresh stores in the capital at a rate of one every 19 days, which if continued would give the company around 16 sites by the end of the year.
"We are excited to see how customers like the Amazon Fresh stores and look forward to opening more in the greater London area in the future," Amazon said.
The store is situated in Wood Wharf, an office, retail and residential complex on the east side of Canary Wharf. When fully occupied, around 120,000 people work at Canary Wharf, but attendance has fallen dramatically as a result of the pandemic. Flexible and home working rollouts by major corporations are expected to affect the number working in the area even as restrictions lift.
The Wood Wharf store has a 2,500 sq ft shop floor and offers a wide selection of Amazon's own-label brand 'by Amazon'.
Like its other Fresh stores, it features Amazon's 'Just Walk Out' technology. To shop at the store, customers use the Amazon app to enter – no Prime membership is required – then pick items and put them in their own bags.
"At the end of their shopping trip, they can just walk out, no stopping to stand in a queue or check out," Amazon said.