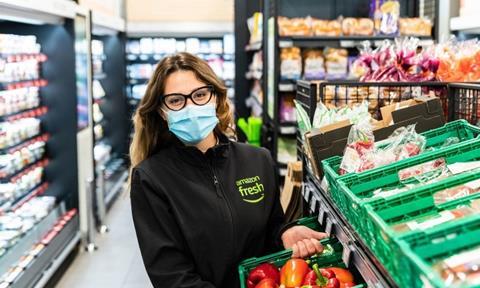 Amazon has opened its sixth checkout-free store in the UK, in Dalston, London.
The e-commerce giant's newest Amazon Fresh opened its doors to customers this morning at 7am, offering meat, poultry and fish, dairy, fruit and veg, bakery, freshly prepared meals and everyday essentials. The range includes both branded goods and those from Amazon's private food brand, 'by Amazon', which includes a range of hot food prepared throughout the day and "tasty on-the-go meals for breakfast, lunch and dinner".
To shop at the Amazon Fresh store, customers use the Amazon app to enter, then put their phone away and shop for what they need. At the end of their shopping trip, they can walk out with no requirement to stand in a queue or check out.
The front of house area of the store is 2,500 sq ft, and the store is open from 7am to 11pm seven days a week.
"We are excited by customer reactions thus far and look forward to opening more stores in the greater London area," Amazon said.
Amazon's rollout of Fresh stores has slowed slightly, the last opening in Chalk Farm in June. The e-commerce giant launched its first physical retail site outside North America in Ealing in March. Its other UK stores are situated next to Wembley Stadium, in White City and in Canary Wharf.
Nevertheless the rate of openings averages at around one store per month.
Despite the automated and checkout-free features of the store, Amazon today emphasised the importance of store workers who are "always on hand and happy to help with a product recommendation or to help find an item in the store, as well as ensure the shelves are fully stocked, handle quality checks, and staff the stores' pickup and returns counter".
"They also prepare a range of delicious 'by Amazon' hot foods, in-store bakery items and tasty breakfast treats and sandwiches, fresh every day in store," the company said.
The new store is located at 28-31 Kingsland High Street, Dalston.