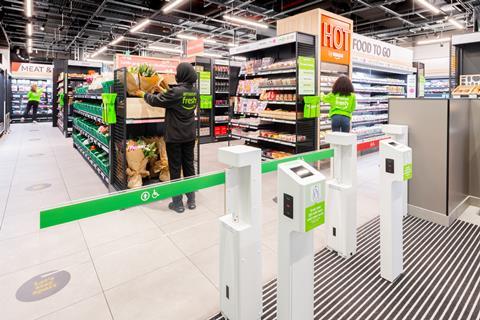 Amazon has opened a new checkout-free Amazon Fresh branded store in White City, London.
It is the e-commerce giant's third physical store in the UK, following its first in Ealing, and second next to Wembley Stadium, which both opened last month.
The new Shepherd's Bush store similarly features Amazon's 'Just Walk Out' technology. Customers scan the Amazon app on their phones on arrival, fill their bags with products and leave without any interaction with staff or a self-checkout machine.
Prime membership isn't required to use the Amazon app and shop in the store.
"Amazon Fresh UK shoppers will find everyday ingredients and essentials on their shopping list, along with ready-made meals to help make dinner tonight easier. Amazon Fresh also sells 'by Amazon' products, all specifically created with our UK customers in mind. We offer a wide range of 'by Amazon' hot food items freshly prepared in-store and served from a grab-and-go heated cabinet so the food is hot and there is still no need to queue," the company said in a statement.
The store is of a similar size to Amazon's two other UK stores, with a front-of-house shop floor of around 2,500 square feet.
It will be open from 7am to 11pm, seven days a week. To ensure social distancing, customer count will be limited to 20 at a time. Shoppers will be given face coverings and disposable gloves if they request them.
"We are excited to see how customers like the Amazon Fresh stores and look forward to opening more in the Greater London area in the future," Amazon said.