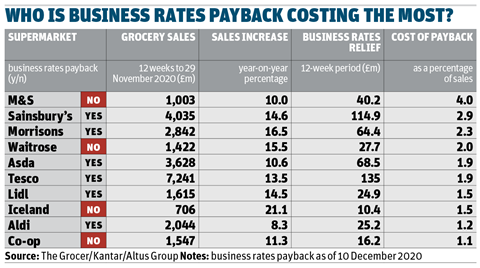 The scale of the sacrifice supermarkets made in handing back business rates relief has been put in perspective by new analysis.
The value of business rates relief over 12 weeks has been compared with grocery-only sales figures from Kantar for the same period for the 10 biggest supermarkets.
It has made it possible to calculate the cost of refunding business rates relief as a percentage of grocery sales for each.
The result shows that, while Tesco led the charge, the business rates payback has been far costlier to other retailers who followed suit.
The 12-week business rates figures have been drawn from retailers' own published numbers, along with estimates provided by real estate advisor Altus Group.
Of those retailers to announce a payback, Sainsbury's took the hardest hit as a percentage of sales, the numbers show. It will cost the supermarket 2.9% of its sales. Tesco, meanwhile, sacrificed 1.9% of its sales in the same period.
Among retailers to have not announced a business rates payback, M&S comes top as a percentage of grocery sales.
However, M&S's business rates figure includes many large stores where clothing and home departments were closed during the lockdown. So the percentage cost of refunding rates payable by the food business alone would be lower. M&S has ruled out refunding the relief because food stores in city centres and travel hubs were badly hit.
The table also includes the percentage year-on-year rise in grocery sales seen by each of the supermarkets, revealing Iceland to have the biggest uptick, of 21.1%.
"First of all, this calls out that M&S is an outlier, which I think is right," said Shore Capital analyst Clive Black. "It's got so many stores that are city-centre full-line operations and also in travel hubs, which are effectively closed or materially down. I don't think there is huge pressure on M&S [to return business rates].
"The interesting one is Iceland. They have exceptionally strong sales in the quarter. Frozen food alongside alcohol are the two standout categories in terms of demand at the moment and Iceland hasn't decided to reveal its hand [on rates refund].
"The irony is Malcolm and Richard Walker are vocal all the time, and the silence has been stunning.
"It's been trading well but it's got considerable debt. You have to ask, can Iceland afford to pay it?" he added.
Black said Tesco "covered its arse" over shareholder dividends by being first to announce a payback, causing "deep industry rancour".