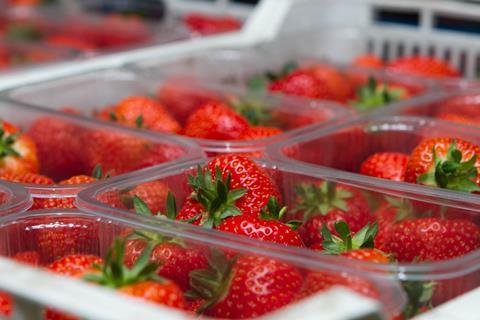 Berry supplier Angus Soft Fruits has claimed a UK category first by switching to punnets made from 100% recycled material.
The Scottish company, which supplies the mults, said it had transferred the majority of its strawberries, blackberries, blueberries and raspberries to fully recycled and recyclable polyethylene terephthalate – better known as rPET – Eco Blend 100 punnets.
Developed in collaboration with its packaging supplier Waddington Europe, ASF said its move had eliminated the equivalent of more than 150 tonnes of plastic a year from its supply chain.
It is now aiming to make further reductions by working with Waddington to reduce the size of its punnets by 5%-10% as part of what its newly appointed sustainability co-ordinator Catherine Russell described as "ambitious sustainability plans".
"Previously our punnets were made from 80% recycled materials as it has always been a challenge for the food industry to find sufficient volumes of clean, high-quality plastics that can be recycled and enter the market as food grade container," Russell explained.
"We want to be net zero throughout our supply chain, from grower to customer, by 2040 and we want to share the best practices that we develop with our overseas growers. Moving our punnets sold in the UK to 100% rPET is a step in the right direction to achieving these goals."
Other measures Russell said ASF was looking to implement included increased monitoring of biodiversity, food waste and carbon emissions on its farms, as well as a significant reduction in food waste overall.
Alongside its punnet innovation, Waddington Europe has also achieved Zero Waste to Landfill status across its three manufacturing sites in GB and Ireland. It was awarded this designation in June following a third-party audit by environmental compliance specialists Valpak.
It comes as soft fruit businesses have ramped up their plastic reduction in recent months.
In April, Berry Gardens announced it would boost the recycled content of its own-label punnets to 80% rPET while also using a minimum of 30% Prevented Ocean Plastic. This echoed a similar move by fellow major supplier BerryWorld in 2020.