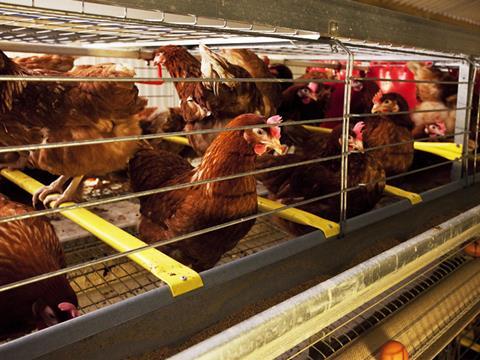 The NFU has warned the government's new action plan for animal welfare in England could exacerbate existing concerns that British food producers will be undercut by cheaper, lower-quality imports.
Defra today published an action plan it said would "further strengthen animal welfare standards and reinforce [the UK's] position as a global champion of animal rights".
The plan, launched to coincide with the introduction of a new animal sentience bill to Parliament tomorrow (13 May), would put animal welfare "at the very heart of government policy decision making", Defra said.
It includes a raft of measures to protect pets and wild animals, in addition to commitments to protect animals abroad, including the prohibition of the import and export of detached shark fins and the exploration of a ban on the sale of foie gras.
But NFU president Minette Batters said she had "serious concerns" about the government's proposals to improve the welfare of farmed animals, which would "raise the bar at home, without any certainty the same standards would be applied to imports".
The proposed farming sector reforms consist of new measures to improve the welfare of animals during transport, including the government's previously trailed plan to end the export of live animals for fattening and slaughter.
Additionally, the plan pledges to consult on "how labelling can be reformed to make it easier for consumers to purchase food that aligns with their welfare values".
Defra also wants to clamp down on dangerous dogs around farm animals, to improve welfare at slaughter and to examine a potential ban on cages for poultry and farrowing crates for pigs.
Farmers would also be incentivised to improve animal health and welfare through future farming policy, Defra said, with the reforms delivered through a series of bills and non-legislative changes and new regulations over the coming months.
It added the government would liaise with the devolved administrations to implement its proposed reforms across the UK and would also ensure "welfare is not compromised in all our future trade negotiations".
However, Batters said "there are still many practices allowed in countries we are currently negotiating with that are banned here, on welfare grounds".
For example, it was not uncommon "to see journey times for live animals in Australia exceed 24 hours without access to feed or water", she pointed out. "In comparison, the government has recently consulted on reducing domestic journey times in the UK to eight hours."
It was also important to recognise that two sectors the government had singled out – poultry and pigs, had "some of the highest engagement levels in farm assurances schemes, meaning they are managed and audited against robust animal welfare standards", she added.
Just over a quarter of eggs sold in retail last year were from enriched cages. If this production system were to be banned in the UK there was "every prospect that the demand would simply be fulfilled by importing eggs from countries with lower standards", Batters suggested.
"If the government is to raise the welfare bar here, it must do so for food imports. It would simply be hypocritical to do otherwise. We cannot have a situation where British farmers adhere to some of the highest standards in the world, only to be undercut by imports that barely meet the lowest rung on the ladder."
It comes as animal welfare group Animal Equality this week said a petition to ban foie gras imports exceeded 200,000 signatures.
In welcoming the government's commitment to explore a ban on the controversial product, the group said the petition would add further pressure to convince Defra to follow through and end imports of the product.
"Brits want a ban," said Animal Equality UK public affairs specialist Jenny Canham.
"Together, people all across the UK are joining us to collectively condemn this cruelty and demand that this so-called 'delicacy' no longer enters our shores."