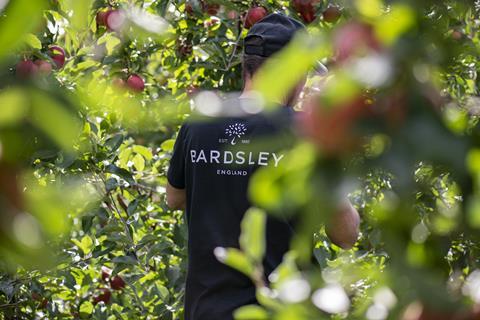 UK-based global agriculture group Camellia has acquired an 80% stake in Kent-based fruit farming business Bardsley England for £15.7m.
The UK's second largest apple grower, Bardsley England employs 550 staff at the seasonal peak and grows almost 18,000 tonnes of fruit a year.
Its operation covers 850 hectares (2,100 acres) and includes 27 orchards growing apples, pears, cherries, plums and grapes, as well as a large grading, packing and storage facility. The business supplies its fruit to major supermarkets and also produces fruit juices from its crop.
Bardsley's group of UK companies recorded a consolidated loss before tax of £1.7m for the year ending 31 March 2021, with revenue of £22.4m. Gross assets of the business at that date were £26.2m and net assets were £8.3m.
Camellia said its acquisition of the business also included a loan to Bardsley of £9.3m to allow it to repay its existing borrowings. The deal would "strengthen Bardsley's balance sheet", it added, with the investment supporting growth and ensuring the business "is able to invest further in developing its packing operations and extending its orchards".
London-headquartered Camellia is publicly-listed and employs over 76,000 people worldwide. With a history dating back to the growing and exporting of tea from Indian plantations in 1850, Camellia now specialises in bearer plants (which produce regular crops such as fruit trees), and generated revenues in excess of £290m last year.
The deal was expected to be earnings enhancing by 2022, it added, while Bardsley's packhouse operations offered synergies with Camellia's avocado, macadamia and blueberry businesses and worked with many of the same customers.
"We have been looking for some time to increase our focus on agriculture where we have deep skills, and to increase our operations in the UK," said Camellia CEO Tom Franks.
"Bardsley helps with both. It is located close to our HQ in Kent, which is the premier region for apple growing in the country. We look forward to partnering with the Bardsley family in the future."