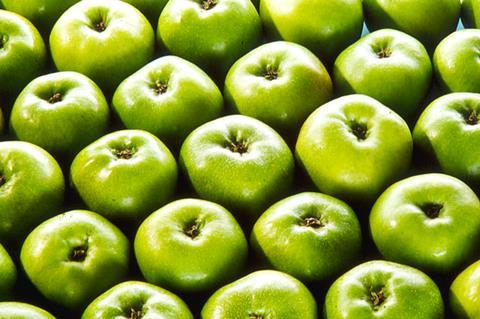 The extreme weather events seen in the UK during 2021 have affected several apple varieties, growers have warned.
Thus far, the UK has been buffeted by the frostiest April since records began, a colder than average May and extreme downpours – especially in the south east.
According to the Met Office, London had double the amount of rain it would normally expect in June. Meanwhile, key growing areas in Hampshire and the Isle of Wight were the wettest parts of the UK last month, with over three times their average June rainfall.
These statistics came before flash flooding hit some parts of the south east this week due to violent thunderstorms.
Grower trade body British Apples & Pears said these events had damaged early flowering varieties, such as bramley and red windsor, with cox also likely to have been hit.
However, gala, the UK's most popular eating apple, does not appear to have been affected to as great an extent, according to the organisation.
"The picture is still emerging," said BAP executive chair Ali Capper. "There's a lot of nervousness about where we'll end up. It's a late season, which can have an impact on fruit maturity, harvest dates and size. Over the last few weeks there's been a lot of stormy weather around.
"The concern for fruit growers is whether that weather contained hail, which can damage the quality of the crop and its skin finish. If we now have three to four weeks of very hot weather or solid rain, that can make quite a difference to the sort of crop we're going to end up with."
Capper added that the lateness of the season, which was caused by the colder than average temperatures in the spring, had meant BAP would delay making crop estimates until the end of July – around a month later than in an average season.
Her comments were echoed by major Kent-based apples and pears supplier AC Goatham & Son. MD Ross Goatham said wet and cold spring weather in the south east had been a "poor combination" at a time when pollination should have been taking place.
Goatham's has embarked upon a major programme of orchard planting, with 137 acres planted last winter and another 148 acres planned for winter 2021/22. But despite recent investment, the poor weather conditions could lead to a fall in volumes, the business warned.
"The gains we would hope to have made year on year with the increase in production as our new orchard yields' increase will be more modest this year," said Goatham. "We estimate overall volumes could be 20% less than our 2020 harvest.
"Currently the most affected are pears and braeburn apples. Weather setbacks like this affect the industry as a whole but we have seen terrific support from the British public for buying British produce and supporting British farmers and we hope this continues into the autumn as the new season fruit hits the shelves."
Indeed, apples and pears have performed strongly over the past 12 months.
According to Kantar data compiled for The Grocer's Focus On Fresh Produce, apples saw value sales growth of £105.5m (11.5%) year on year with volumes rising 5.7% [Kantar 52 w/e 18 April 2021].
Pears also performed well, adding 18.9% (£39.2m) in sales off the back of 13.6% growth in volume.
According to Goatham, sales were boosted by the storability of apples and pears during the pandemic.
"People bought more apples and pears during the lockdowns here in the UK because they store well and last for a long time. This suited patterns of shopping which moved online, to in-store collection and to less frequent shopping trips," he said.
According to the company's own statistics, Goatham's sold 43% more apple packs in the three months from 16 March to 30 June 2020 than they had in the previous year.