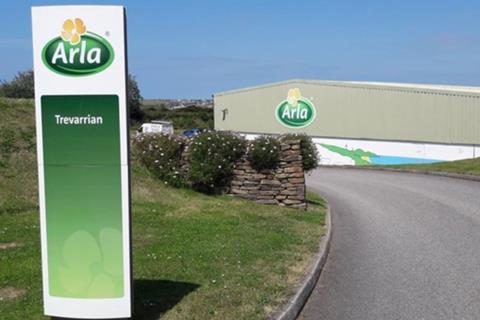 Arla has announced plans to close its Trevarrian Creamery in Cornwall by the summer, due to a decline in volumes and a loss of key own-label contracts.
The dairy co-op has launched a consultation at the site – which produces a range of brie, camembert and other cheeses predominantly under local brands or own-label retailer brands – with up to 37 jobs at risk.
Arla said volumes at the site had been in decline in the past three years, with the situation further exacerbated by the effects of the pandemic on the foodservice category and the loss of "a number of own-label cheese contracts".
As a result, it said maintaining production at the site was "no longer financially viable for Arla Foods and its farmer owners".
The Trevarrian Creamery was acquired by Arla following its merger with Milk Link in 2012. The site processed around 7.5 million litres of milk last year, equating to less than 2% of Arla's total cheese production in the UK.
The supplier said it envisaged the milk from Arla farmers in the area would primarily be taken on by Arla's sites at Taw Valley and Westbury.
If the proposal to close the site went ahead, Arla would look to recruit staff from Trevarrian into vacant positions within its site network as part of a suite of support for site workers.
However, some unnamed products that were not able to be manufactured elsewhere in the Arla network would be discontinued by the end of the summer, it added.
The move to close Trevarrian follows a decision by Arla to pull out of its Llandyrnog Creamery in North Wales in 2018.
However, the dairy co-op had also invested more than £186m in its UK production infrastructure over the past three years to support its "long-term commitment to supply consumers in Great Britain with high-quality, sustainable dairy products", it stressed.
"As a farmer-owned dairy company, our mission is to return the highest value for our farmers' milk, sustaining a robust milk price for them that allows them to keep investing in sustainable dairy farming for the future and high animal-welfare standards," said Arla UK VP for production Alison Rance.
"Unfortunately, the drop in production volumes for the site means we believe it is no longer financial responsible for us to keep our Trevarrian facility in operation. We have explored multiple options including additional volume opportunities for the site, but see no other alternative than to propose a closure."