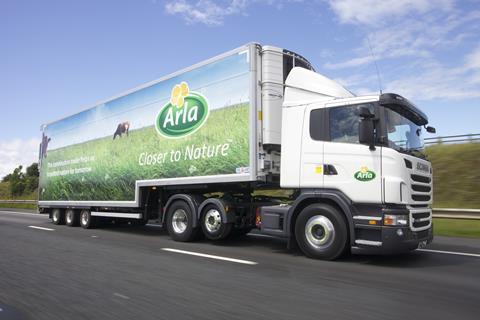 European dairy co-operative Arla has ridden a spike in home consumption of household dairy products to grow annual sales, despite a sharp drop in foodservice sales.
In 2020 Arla grew global branded sales volumes 7.7% due to the co-operative's global portfolio of popular brands such as Arla and Lurpak and strong market positions.
As consumers were forced to stay home for much of the year, the number of family meal occasions increased significantly, and many consumers turned to cooking and baking to boost sales of Arla's global brands Lurpak, Arla and Puck.
This demand spike delivered strategic branded volume growth of 14.6%, 3% and 11.7% for its key brands respectively.
Foodservice sales saw an initial drop of 45% in the spring of 2020, then quickly regained momentum over the summertime, weathering the second and third waves of Covid-19 with further shutdowns of workplaces and across the hospitality sector. Arla's branded foodservice business in Europe was overall 12% down from 2019.
Despite revenue losses in foodservice and global industry sales, total group revenue edged up to €10.6bn from €10.5bn in the previous year.
Arla said its pre-paid milk price to farmer owners was kept relatively stable compared to the volatility seen across the dairy industry.
Arla's performance price – which measures the value Arla creates per kilogram of owner milk – was 36.9 eurocent in 2020 compared to 36.6 eurocent in 2019.
"The Arla pre-paid milk price to our farmer owners has been kept at a competitive and relatively stable level throughout 2020 compared to our peers, and the board of directors is very pleased to be able to also propose a higher supplementary payment to the board of representatives due to our co-operative's 2020 results," said Arla Foods chairman Jan Toft Nørgaard.
"That said, we fully recognise farmers are facing increasing production costs and additional requirements. This is a challenge across Europe that needs to be met by actions across the dairy industry and its wider stakeholder group."
Looking forward, Arla said 2021 will be "another challenging year as Covid-19 continues to impact the global dairy industry, the global economy and people's livelihoods around the world".
Arla said it expects core brands to continue to deliver branded volume growth, but at a more modest rate than in 2020.
It added the UK-EU Brexit deal has "removed significant risk to Arla" and the business is "well prepared to handle the non-tariff barriers in the new agreement".
Arla also plans to invest €700m in 2021 driven by structural investments, initiatives through its transformation programme Calcium and its sustainability agenda.
CEO Peder Tuborgh added: "2021 will be another year of uncertainty and global disruption as the Covid-19 crisis stretches into the year and the first signs of a recession are starting to show. We need to be vigilant in ensuring the health and safety of our people and farmer owners while securing business continuity and growth. But it is also a year where we hopefully will see the world open up again as vaccines are rolled out so I am cautiously optimistic for 2021."
Meanwhile, in the UK Arla saw 13% branded revenue growth with total UK revenues up to £2.1bn from £1.95bn, despite 50% of Arla's products being impacted by the consequences of the pandemic.
Its UK own-label offering also grew 4% in volume-driven revenue growth.
Key brands UK shoppers turned to saw positive strategic branded growth in the UK, including the Arla brand overall (+8.8%) driven by Cravendale (+23%), Lactofree (+11%), Anchor (+9%) and Lurpak (+15%).
Whilst Arla's UK production produced record volumes overall, increased imports of Lurpak from Denmark helped ease demand pressures for butter in UK supermarkets.
Arla Foods UK finance director Simon Ho commented: "I'm very proud that we can look back at our 2020 results and see the positive impact of our flexible approach to business, in what was a very challenging year. Around 50% of Arla's products were impacted by production decisions needed to keep our colleagues safe during coronavirus and to ensure there was enough dairy in fridges to help feed the nation.
"The collaborative nature of our farmer owners, colleagues and the retailers we partner with was essential to making this happen."