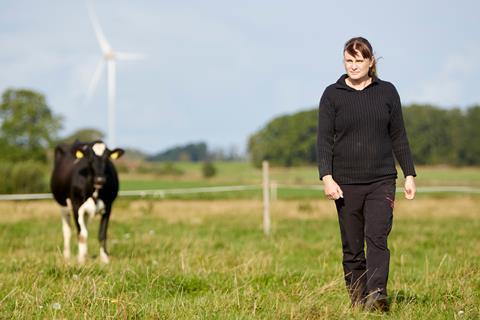 Arla has announced a direct purchasing initiative for renewable energy produced by its farmer owners, as it aims to be a net zero CO2 emitter by 2050.
Currently, Arla farms that produce renewable electricity can sell it only to utility companies or traders in the form of Renewable Energy Guarantees of Origin – a standardised instrument to guarantee one MWh of electricity has been produced from a renewable source.
Now they will be able to sell REGOs directly to Arla, with the dairy co-operative pledging to pay market prices. Farmers would receive the full profit of their REGOs and Arla could source around a fifth of its electricity needs from its own value chain, said the supplier.
Not only would the move contribute to Arla's goal of becoming net zero by 2050, it could also encourage more farms to invest in renewables, the co-op added.
"This development means that Arla farmers can help their own company to accelerate the transition to renewable energy while the company can maximise the value of their investments in renewable energy," said Arla head of sustainability Hanne Søndergaard.
"It demonstrates how we in our co-operative's micro food system can work together to increase the sustainability of our value chain to the benefit of our owners, our business and the environment."
Around 24% of Arla's members produced electricity from renewable sources on their farms, such as from wind turbines and solar panels, Arla said. But due to legislation in Germany and Luxembourg that makes it mandatory for farmers to sell green energy to the government if their electricity production is subsidised, the number of owners able to sell their energy to Arla sits at 14%.
The co-op currently purchases REGOs for approximately a third of its total operational electricity needs.
The news comes after Arla claimed its milk farmers produced less than half the global dairy industry's average carbon emissions per kilo following the first year of its carbon accounting scheme, the Climate Check programme.