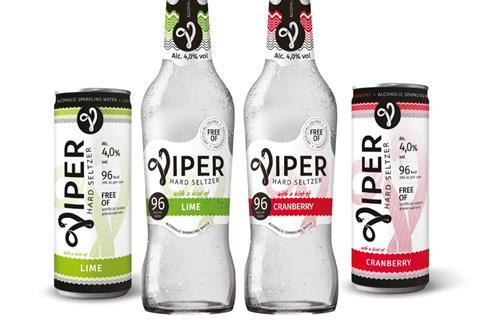 Asahi is jumping on the hard seltzer bandwagon.
The brewing giant has unveiled Viper (4% abv), a new hard seltzer brand in two flavours – lime and cranberry (rsp: £2.22/330ml).
They are touted as being brewed at Asahi's base in Plzen, Czech Republic, and made with "the purest spring water". The drinks contain no artificial sweeteners, colours or preservatives.
They offered "a unique refreshing taste with a bite of alcohol", said the brand, coming in at 96 calories per serve.
Asahi was "proud to introduce a hard seltzer that not only offers quality, demonstrated through the brewing process, but it also allows us to continue to offer products to our customers that are in line with consumer trends," said Asahi UK marketing director Sam Rhodes.
Asahi isn't the only brewer hoping to get in on the hard seltzer explosion.
Molson Coors is currently throwing £5m behind the launch of its own brand, Three Fold, while Budweiser Brewing Group brought Bud Light Seltzer to the UK in April.
US smash hit seltzer White Claw, meanwhile, this month expanded its range with eight-can variety packs – its bestselling SKU in the US.