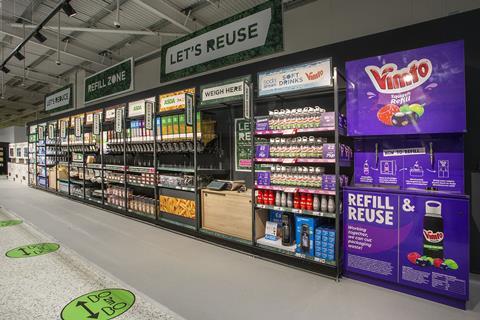 Asda has published its first environmental, social and governance (ESG) report, setting out how it plans to help customers shop sustainably.
The supermarket said the report reflected research among more than 3,000 customers to understand which ESG-related issues mattered most to them and would build on its Create Change for Better programme.
Affordable greener choices, reducing single-use plastic and cutting food waste came top of the list of demands from customers, added Asda.
The report sets a raft of commitments including making it affordable for customers to shop sustainably through the 'Greener at Asda Price' promise, becoming a net zero carbon business by 2040 and removing three billion pieces of plastic from products by 2025, through developments such as its sustainability trial store in Middleton.
"Asda has always been a retailer that sits at the heart of the communities it serves and the events of the last 12 months have highlighted the important role we play in helping to tackle societal challenges," said Asda CEO Roger Burnley.
"Despite the challenges of the pandemic, we have not lost sight of our wider ESG responsibilities and this report provides an update of where Asda is now on the issues that matter most to our colleagues, customers and communities, and importantly where we want to be in the future. It builds upon our existing Create Change for Better commitments, and the resilience we have shown during the last 12 months means we are well positioned to help customers make greener, healthier and responsible choices when they shop with us."