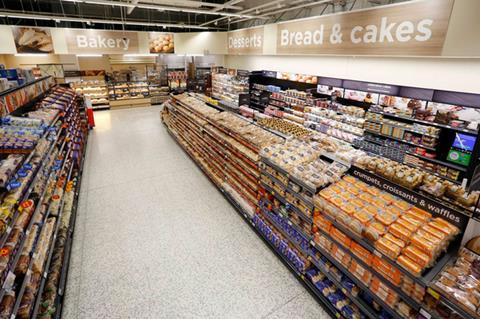 Asda has entered into consultation with 1,200 bakery staff after announcing it was following in Tesco's footsteps by ditching its in-store scratch bakery model.
The supermarket said it was responding to changing customer preferences in favour of specialised bakery products.
The move to an ambient bakery model, using a centralised bakery, had sparked the start of formal consultations with colleagues potentially impacted by the changes, Asda said. If the proposals were enacted, the priority was to move as many colleagues as possible into alternative roles within Asda, with redundancy "the last option".
Asda customers would see traditional loaves increasingly replaced by speciality breads, wraps, bagels and pancakes, it said. The move would also broaden the range of bakery products offered and fresh products would be baked several times a day, compared with just once a day at present, it added.
The move comes just over a year after Tesco announced a similar shake-up of its in-store bakeries, towards bakery products being part-baked in-store instead of baked from scratch.
It is the latest staff restructure at Asda, which in February said it was to consult over the future of 5,000 jobs as its re-geared its business towards online grocery.
The bakery shake-up comes with the Competition & Markets Authority due to decide on the billionaire Issa brothers' £6.8bn takeover of the company from Walmart, by next Tuesday.
"The current in-store bakery model has restricted our ability to respond to changing customer demands and offer them the speciality products and freshly baked goods they want to buy throughout the day, said Derek Lawlor, Asda chief merchandising officer.
"The changes we are proposing will deliver a much better and more consistent bakery offering for customers across all our stores. We know these proposed changes will be unsettling for colleagues and our priority is to support them during this process."