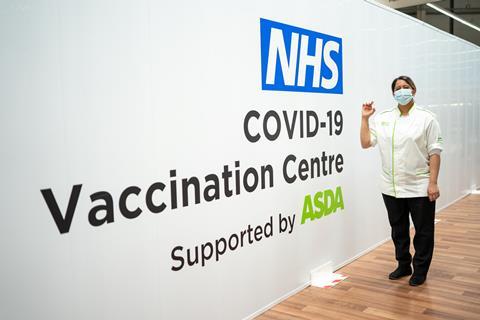 Asda has announced plans to extend its vaccination programme, after patients received their first in-store jabs at a store in Birmingham.
The supermarket launched its first in-store Covid vaccination service at its Cape Hill store and today announced a second vaccination centre would open at its Watford store next week.
As with Cape Hill, the George section of its Watford superstore will be converted – creating capacity to deliver 3,500 vaccines a week – from 1 February.
Meanwhile, trained pharmacy staff will deliver 240 jabs per day at Cape Hill, to priority groups selected by the NHS.
"We are incredibly proud to be the first supermarket pharmacy to administer the vaccine and to play our part in helping the NHS roll out its vaccination programme," said Faisal Tuddy, Asda superintendent pharmacist.
"Many of the people who will attend the store today have been shielding at home for months and we hope receiving the vaccine is the first step towards a return to normality for them.
"We are also stepping up our support for the NHS by opening a second in-store vaccination centre next week and have offered all of our 254 in-store pharmacies across the UK, along with our logistics network, to help with the rollout."