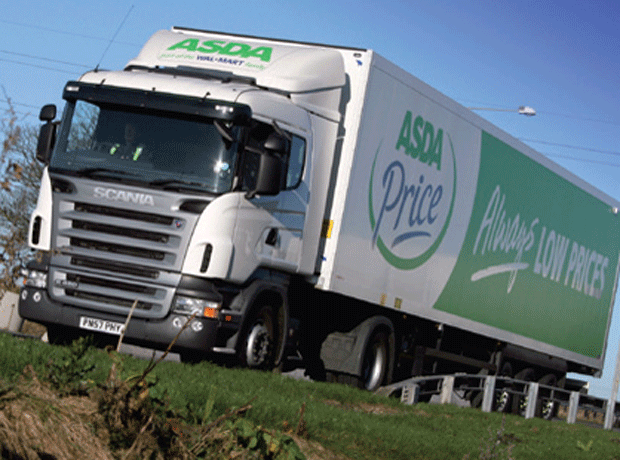 Asda has given its suppliers 30 days' notice to agree to fork out a 5% increase in haulage costs, as it becomes the latest supermarket giant to pass the cost of the HGV driver crisis on to its supply chain.
In a letter to suppliers, obtained by The Grocer, the retailer blamed "Brexit uncertainty" for soaring transportation costs.
But despite acknowledging that suppliers may themselves have been hit with the same pressures, Asda is demanding the across-the-board increase in contributions. It claims its costs have risen in some cases by up to 12% because of the ongoing staff shortages.
Tesco was the first major retailer to demand extra transportation payments from suppliers earlier this month, though it gave 12 weeks' notice of the surcharge, which will begin in October.
It has since been followed by Gist, one of M&S's main suppliers, and last week by Sainsbury's, which hiked charges by "low single digits", with 12 weeks' notice.
In Asda's letter to suppliers, senior director for logistics services Chris Hall said: "Overall, we have managed to maintain service and get goods to our stores on time. We continue to support all our suppliers on various logistics and transport issues they might encounter.
"The issues we are facing [are the ones] that you have no doubt encountered yourselves or seen in the national press.
"Many drivers returned to their country of origin during extended periods of lockdown and restricted travel. The vast majority have not yet returned.
"The uncertainty of Brexit and future rights to live and work in the UK forced many drivers to do the same. Again, the vast majority have not returned nor are they expected to."
He added: "While we continue to take on extra cost and deal with all these issues that we encounter, we need to recover some of this additional cost. In some areas we are seeing cost increases of 12% and beyond.
Considering all the above, we now find it necessary to give you as a supplier, an increase of 5% on transport rates as of 21st August 2021."
Ged Futter, founder of The Retail Mind, said Asda's demand heaped yet more costs on to suppliers already facing huge increases in commodity and labour costs.
"The fact that Asda is sending such a long letter, admitting that the suppliers they are demanding this money from are facing the same pressures, says it all.
"Buyers have been telling suppliers that extra costs for Brexit were not unforeseen and that they should have mitigated against them.
"But the line 'you may no doubt have encountered yourself' opens the door for suppliers to say, 'yes we have and here is our inflation'."
A spokesman for Asda said: "Due to the unprecedented HGV driver shortage, the third party logistics providers that we use to collect goods from suppliers and deliver them to depots have significantly increased their rates in recent months and to date we have absorbed this additional cost.
"Whilst passing on any costs to suppliers is a last resort, the challenges in the logistics industry remain unresolved and as a result we are looking to work closely with our supply partners to change the rates we provide for this service."