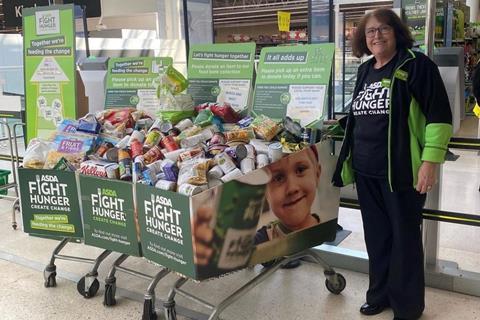 Single parents and disabled people are bearing the brunt of extreme food poverty caused by the pandemic, according to a new report funded by Asda's Fight Huger Create Change partnership.
The State of Hunger 2021 report, commissioned by the Trussell Trust, reveals more than 60% of working-age people referred to a food bank in the lockdown were disabled – more than three times the rate in the UK working age population.
Single-parent families are more likely to be forced to a food bank, with almost one in five (18%) households referred to food banks during the pandemic being single parents – more than twice the rate in the general population (8%).  
The report, conducted by Heriot-Watt University, claims low income is a key factor in driving people to food banks, with the average family using the services surviving on less than £250 a month on average after housing costs.
The report found that by mid-2020 47% of all people using food banks and 41% of disabled people referred were indebted to the Department for Work & Pensions (DWP), making it the most common creditor to people at food banks. 
People experiencing poor mental health referred to food banks in the Trussell Trust network grew from around half (51%) in early 2020 to almost three quarters (72%) in mid-2020.  
Read more:
"How can anyone in this country stay warm and dry and buy food on just £248 a month after rent?" said Trussell Trust CEO Emma Revie. "People struggling in extreme poverty are pushed to the doors of food banks because they do not have enough money to survive. Hunger in the UK isn't about food – it's about people not being able to afford the basics.
"We know we can change this. We need to change the conversation around poverty and take action together. We need government at all levels to commit to ending the need for food banks once and for all and to develop a plan to do so. It's time for government to make this a priority – to recognise that it must be an essential part of their levelling up agenda to work towards a hunger-free future where we can all afford the basics."
As well as funding the study, Asda this week launched a new national food drive calling on customers to help people struggling with hunger.
Almost 400 Asda stores will take part in a month-long food drive in May, encouraging customers to donate vital food and hygiene essentials to support their community.
Asda's Fight Hunger Create Change partnership supports the Trussell Trust and food redistribution charity FareShare, which have come under increasing pressure since the pandemic began.
Asda said from 1 April 2020 to 31 March 2021, a record 2.5 million emergency food parcels had been given to people in crisis by food banks in the Trussell Trust's network, a 33% increase in need on the previous year, with almost a million of these parcels going to children. 
"As the impact of the pandemic continues to be felt in communities across the UK, families are struggling to access basic items like food and hygiene products," said Asda senior director for community Jo Warner.
"Our stores have permanent collection points year-round, but over the next month our aim is to boost the number of donations as we support our charity partners managing an increased need for emergency food parcels."