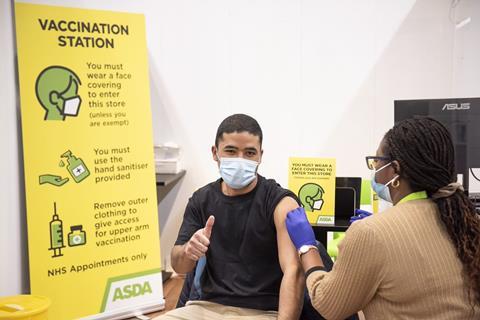 Asda's in-store Covid vaccination programme reached its 50,000th patient this week, three months after it became the first supermarket to support the NHS delivery of the jabs.
In February, Asda began using in-store pharmacies and transforming George clothing areas at three of its stores – in Cape Hill, Birmingham, Watford and Old Kent Road, London.
The supermarket has been involved in trying to ensure higher uptake among BAME communities.
"We are incredibly proud of the fantastic efforts of our pharmacy teams in Watford, Birmingham and London for working so hard to help provide Covid-19 vaccinations and support the NHS," said Faisal Tuddy, Asda superintendent pharmacist.
"Our stores are located at the centre of the local communities and are easily accessible, so I would encourage everyone to get their jab as soon as they are able to as we continue to support the NHS in their successful vaccination rollout.''