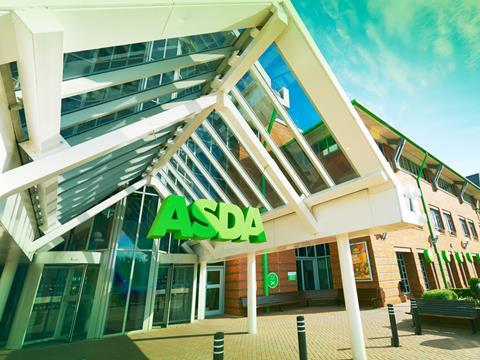 Asda paid a £1.15bn dividend to US owner Walmart last year, even as its profits slumped by more than a quarter newly filed accounts have revealed.
The supermarket today filed its annual statutory accounts for the financial year to 31 December 2019 at Companies House, showing a 0.1% edging back of sales to £22.9bn and a 27.3% drop in operating profits to £584.2m.
Asda said profits were adversely affected by a number of one-off costs, including an increase in share option charges, mainly due to the Asda staff Sharesave plan, as well as property costs.
Like-for-like sales (excluding fuel and VAT) declined by 0.8%.
The accounts will show Asda paid a £1.15bn inter-company dividend payment to parent company Walmart on 5 March 2020.
Asda stressed this payment – the first since 2017 – was in "respect of the 2017, 2018 and 2019 financial years" and was funded by surplus cash following a reorganisation of its pension scheme.
In October 2019, Walmart, Asda and the trustees of the Asda Group Pension scheme agreed to proceed with a bulk annuity insurance 'buy-in' of the pension scheme with Rothesay Life, which resulted in a one-off payment by Asda of £1.17bn into the scheme.
The supermarket remains on track to complete the full scheme buyout in 2021, securing the benefits of the scheme's 12,300 members.
Asda also continued to invest in its colleagues through committing to train more than 1,500 apprentices, as well as paying a bonus to all eligible colleagues alongside strong returns on Sharesave investments.
The dividend payment to Walmart comes ahead of the acquisition of Asda by the Issa brothers and TDR Capital, which remains on track to complete in the first half of 2021 subject to regulatory approval.
Under its new owners, the business will invest over £1bn in the next three years to further strengthen the customer proposition and supply chain.
Asda said it would continue to invest in accelerating its omnichannel offer, with its online sales growing ahead of the market in 2019, as well as in the resilience of its supply chain, including sourcing more food from UK farmers and maintaining its commitment to supporting domestic suppliers and small businesses.
Asda also continued to implement its Create Change for Better strategy, further eliminating more than 7.7 tonnes of packaging used in its own label products and asking suppliers to help increase usage of refillable and reusable products. This initiative came to fruition in October 2020 with the launch of Asda's trial store in Middleton, Leeds.
"This annual report is a record of the progress we made in investing for customers and advancing delivery of our strategy in 2019," said Asda CFO Rob McWilliam.
"During the year, we invested incrementally in our customer offer, delivering lower prices to millions of customers and improving the quality of thousands of own-brand products through use of healthier ingredients and more sustainable packaging. We also refreshed 37 stores with our latest proposition.
"Another key milestone was the agreement with Rothesay Life for a buy-in of the Asda Group Pension Scheme… Once the buyout completes, it will remove all future scheme liabilities from the Walmart and Asda balance sheets – delivering a positive outcome for scheme members, Asda and Walmart."
The full accounts are not yet available at Companies House.