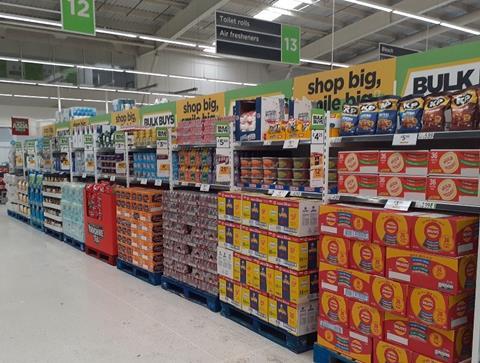 Asda has expanded its Deal Deport concept to 10 more stores as it takes the bulk buy battle to rival Tesco.
It comes after it trialled the concept at its Patchway hypermarket, in Bristol, with a scaled down version first piloted in Cardiff last year.
While the launch in Bristol, in December 2019, saw Asda create a 20,000 sq ft cash & carry-style annex with its own entrance, the expansion sees up to 30 bays in existing Asda stores turned over to the bulk buy concept, like the trial in Cardiff.
The move mirrors that of Tesco, which has rolled out more than 200 bulk buy areas in its larger stores. It has used products sourced from its Booker wholesale arm, having also begun with a standalone Chef Central store at its Barr Hill store, which it closed last year.
However, in recent months Tesco has begun handing far more space to the bulk buy sections, as it looks to repurpose excess space in its stores.
Asda said expanding the bulk buy trial would give customers the chance to stock up and get better value across a range of everyday favourites in bigger packs.
Stores in York, Bootle, Milton Keynes, Toryglen and Dumbarton will each get a dedicated bulk buy aisle, with products including Ariel washing pods, Walkers crisps, and Nicky Elite toilet rolls.
Asda will also test a smaller selection of bulk buy items in a further five stores that will be merchandised alongside smaller packs in the same aisle.
Thurmaston, Stowmarket, Rugby, Leyton and Bedminster will each get between one and four bays of products in bigger packs across categories such as crisps, household, pet and laundry.
The bigger rollouts will see a range of nearly 40 lines added to Asda's York store, which is set to receive a 10-bay standalone offer from this week. Later this year it will be joined by Asda Dumbarton, which will offer a 32-bay trial – the largest range of bulk buy products available in any Asda store.
Asda said it would also make a selection of bulk buy products available online for customers receiving home shopping deliveries from the trial stores.
"Following a successful trial at Asda Cardiff, we're evolving the bulk buy concept to offer a range of bestselling and popular products within a further 10 stores," said Debra Lees, senior director of wholesale and convenience at Asda.
"These stores will receive selected bulk lines such as Nicky Elite toilet roll, Fairy Platinum dishwasher tabs and large boxes of crisps, which help to fulfil a 'stock up' mission alongside our core grocery offer.
"The trial in our Cardiff store has shown there is demand from customers for bigger packs to help them benefit from even better savings when purchasing common pet, household, snacking and cleaning products in larger quantities."