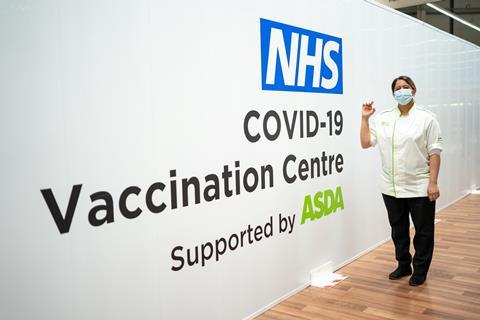 Asda has joined other leading employers backing a campaign to encourage staff to have the Covid-19 vaccine.
The scheme has launched with nine of the UK's biggest national employers, also including Ikea and Procter & Gamble UK, pledging their support in promoting positive vaccination messages and encouraging their 240,000 employees to get the jab.
The government is calling upon all UK organisations to back the programme by introducing similar internal awareness campaigns to promote the benefits of vaccines.
Employers will also use resources from the new national government campaign to run an internal awareness campaign consisting of key messages, vaccine fact sheets, informative Q&A videos, posters and many more resources to ensure their employees get access to reliable and accurate information about the vaccine.
The Covid-19 Employers toolkit is available at coronavirusresources.phe.gov.uk/covid-19-vaccine/resources/employer-toolkit/ .
"We have been extremely proud to play our part in the vaccine rollout by hosting NHS vaccination centres in three of our stores," said Faisal Tuddy, superintendent pharmacist at Asda.
"Asda was the first supermarket to offer this service and so far our pharmacy colleagues have now administered over 36,000 doses. We are also encouraging our colleagues to get the jab as soon as they are eligible to and are supporting them by giving them the time off to attend both appointments to receive the vaccine, as well as the time they need to recover if they feel unwell."
Health secretary Matt Hancock said: "Our vaccination programme has so far saved thousands of lives, protecting our loved ones and bringing down infection rates to a point where we can see normality on the horizon.
"It's fantastic that employers are prioritising the safety of their staff and doing all they can to encourage people to get vaccinated.
"I urge everyone to get their vaccines when they get the call so we can beat this pandemic together."