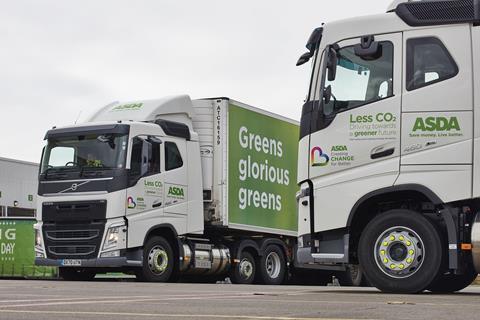 Asda has told its top 150 suppliers it expects them to set new carbon emission targets by the end of 2022.
At a virtual supplier conference today, the supermarket called on the supply chain to "do what was right for customers" by being transparent about its impact on climate change.
It urged suppliers to set targets, if they had not already, for Scope 1 and 2 emissions, covering direct emissions from the companies themselves.
Asda also announced new targets for its own Scope 3 emissions, covering inherent CO2 emmisions.
The Zoom call to arms came at a conference of over 540 suppliers, which Asda said was its biggest sustainability event to date.
Asda has already committed to slash its Scope 1 and 2 emissions by 50% by 2025 and has reduced its carbon footprint by 31% since 2015. Ten per cent of that came during 2018-19.
"We know that the majority of our emissions are in our supply chain, which is why we launched a new Scope 3 carbon footprint target at the conference, asking our top 150 suppliers to join us and set a Scope 1 and 2 carbon reduction target by the end of 2022," said Paul Gillow, Asda VP of own brand and commercial strategy.
"This is a vital step and having had conversations with suppliers, we know it is of equal importance to them, so I am excited by what we can achieve together not just in carbon but in all parts of our business, making greener changes which are right for our customers."
Asda's move came after food and drink companies were called on to step up action to slash their CO2 usage, despite hitting a target to more than halve emissions five years earlier than planned.
The FDF today released a midway progress report on its flagship sustainability strategy Ambition 2025, which launched in 2016 and also set out new targets it said "better reflected" current UK and international goals.